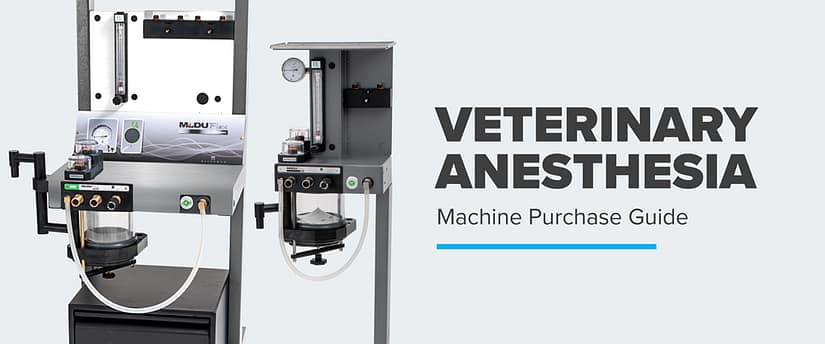 Dispomed is putting the spotlight on veterinary anesthesia machines. This quick and simple purchase guide will help you determine your needs while considering the different characteristics of our anesthesia machines.
1. IDENTIFY YOUR NEEDS
There are several types of anesthesia machines on the market today. Identifying your needs will help determine which machine will best suit your practice.
What space is available for the anesthesia machine?
Do you use a veterinary monitor or an anesthesia ventilator during interventions?
Is hypothermia a concern during surgery?
What kind of animals do you treat?
Do you want to use more than one type of gas?
Does the anesthesia machine need to be mobile?
2. AFTER-SALES SERVICE
Once you have identified your needs, verify the services offered for repairs and maintenance of your anesthesia machine.
Where is the unit manufactured?
Is the warranty offered by the distributor or the manufacturer?
What is the length of the warranty?
What is the cost of maintenance?
What type of service is offered in case of breakage or imperfection?
3. RESEARCH THE PRODUCT
Use the chart below to compare the characteristics offered by Dispomed's Moduflex anesthesia machines to your practices' needs.
Moduflex Optimax
Moduflex Coaxial
Moduflex Elite
Moduflex Compact
Moduflex Access2
Moduflex NRB
Length
64.77 cm (25.50")
53.34 cm (21")
53.34 cm (21")
68.58 cm (27")
68.58 cm (27")
68.58 cm (27")
Width
49.53 cm (19.50")
49.53 cm (19.50")
49.53 cm (19.50")
66.04 cm (26")
68.58 cm (27")
66.04 cm (26")
Height
137.16 cm (54")
134.62 cm (53")
134.62 cm (53")
138.43 cm (54.50")
128.27 (50.5")
132.08 cm (52")
Shelf for accessories
Length 49.53 cm (19.5")

Width 30.48 cm (12")

Length 31.75 cm (12.5")

Width 19.68 cm (7.75")

Length 31.75 cm (12.5")

Width 19.68 cm (7.75")

Optional
Optional
Length
22.86 cm (9")Width
17.78 cm (7")
Installation options
Mobile or
wall-mount
Mobile
Mobile
Mobile or
wall-mount
Mobile
Mobile or
wall-mount
Storage space
Yes
No
No
No
No
No
Coaxial circuit
Yes
Yes
No
No
No
No
Open circuit (Bain)
Optional
Optional
Optional
Optional
Optional
Optional
Semi-open circuit (abosorber)
Yes
Yes
Yes
Yes
Yes
No
Stability
++
++
++
++
++
++
Maintenance
$$
$$
$$
$$
$$
$
Warranty
5 years
5 years
5 years
5 years
5 years
5 years
MRI compatible
Optional
Optional
Optional
Optional
Optional
Optional
Learn More
Learn More
Learn More
Learn More
Learn More
Learn More