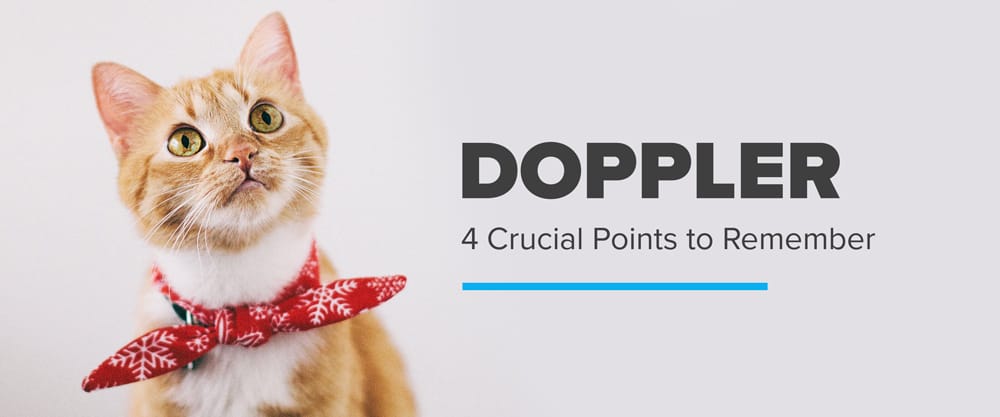 The Doppler is one of the most common monitoring devices found in veterinary clinics. Its portable size, it is easy of use and affordability makes it one of the most popular devices. Since your Doppler is probably used for almost every surgical procedure in your clinic, here are 4 essential points to know to extend its life.
1. Cleaning the probe
After use, the probe should be gently wiped clean of ultrasonic transmission gel with a soft cloth. If the gel has dried on the probe, put it under running water (lukewarm to cold) to soften the gel and make it possible for you to wipe it off. The probe crystals are covered with a material that softens and comes off when soaked in certain liquids, such as alcohol. Therefore, we recommend you use a cleaning procedure that does not require soaking. Usually, wiping with a damp cloth is sufficient. You may use alcohol on the cloth but wipe with a water-dampened cloth afterwards. If a probe is accidentally submerged, soak in plain water and hang to dry with the cable facing down so the probe body drains. Should someone use a sharp instrument to scrape off dried gel, they may also succeed in scraping off the material covering the tiny wires and crystals. We speak from experience. Such probes cannot be repaired, and in fact, any probe with a broken or cracked crystal cannot be repaired.
2. Do not autoclave
Temperatures above 60 degrees Celsius destroy the crystal activity and cause the covering over the individual cable covers and the outer sheath to shrink and crack. High temperature will cause considerable loss of sensitivity.
3. Make sure the probe frequency matches the tuning of the doppler.
The frequency is indicated on the probe and on the instrument. When ordering new probes, be sure to order this frequency. We recommend keeping a spare probe of the proper of the correct frequency on hand if relying on the Doppler. The red protective cover must be removed from the probe before use.
4. Disconnecting the probes from the instrument should be kept to a minimum.
Do not do this unless you need to, for two reasons. First, the connectors wear out and make erratic contact causing "static electricity" after many disconnections. Second, people tend to pull on the cable rather then the connectors themselves and break the soldered joint inside the cable connector.
If you need additional assistance with your Doppler, contact our team! It will be our pleasure to assist you!
Does your equipment
require preventative maintenance?
Start using your unit with good maintenance habits. Let's give yourself relief and avoid stress by subscribing to our automated maintenance reminders. We will be guiding you in using the unit to its full potential and optimizing its operating service time.