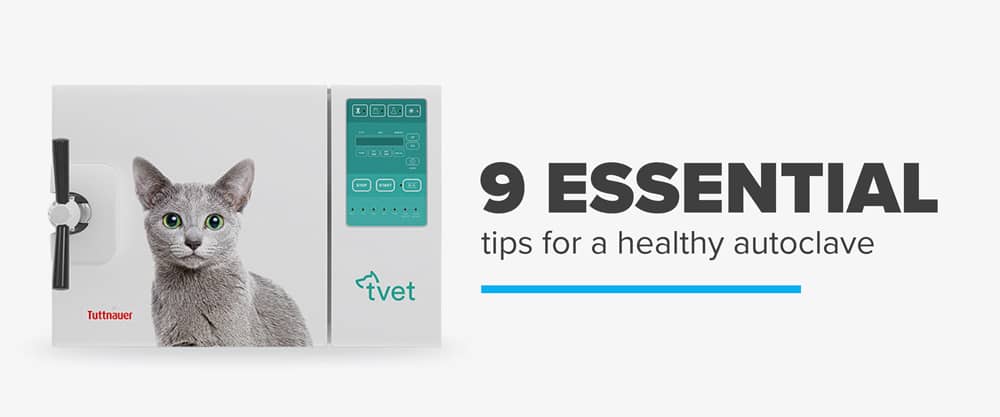 You finally got a good quality autoclave to sterilize your veterinary equipment and you want to maximize your investment? You certainly know how to use it, but here are 9 essential tips to maximize its good functioning.
1. Always DEPOSIT the instruments in a TRAY;
2. DISINFECT the instruments BEFORE putting them in the autoclave;
3. Perform sterilization TESTS EACH sterilization cycle;
4. Make the autoclave sterilization PROCEDURE available to MAXIMIZE the sterilization rate by ensuring that all users follow the same procedure;
5. ALWAYS use DISTILLED water when filling the tank. Why?;
6. Do not neglect WEEKLY maintenance;
7. Never OPEN the door until the DRYING is complete on the automatic autoclave;
8. Avoid OVERLOADING the autoclave with too many INSTRUMENTS or too much TISSUE. In case of doubt, consult the table of recommended weights by clicking here;
9. AVOID sterilizing the following COMPONENTS:
Organic acids, bases and solvents, chlorides;
Sulfate Seawater Chlorine;
hypochlorite, bleach;
Non-stainless steel ;
Polystyrene (PS);
Polyethylene (PE);
Low-density polyethylene (LDPE) and high-density polyethylene (HDPE);
Polyurethane.
Does your equipment
require preventative maintenance?
Start using your unit with good maintenance habits. Let's give yourself relief and avoid stress by subscribing to our automated maintenance reminders. We will be guiding you in using the unit to its full potential and optimizing its operating service time.