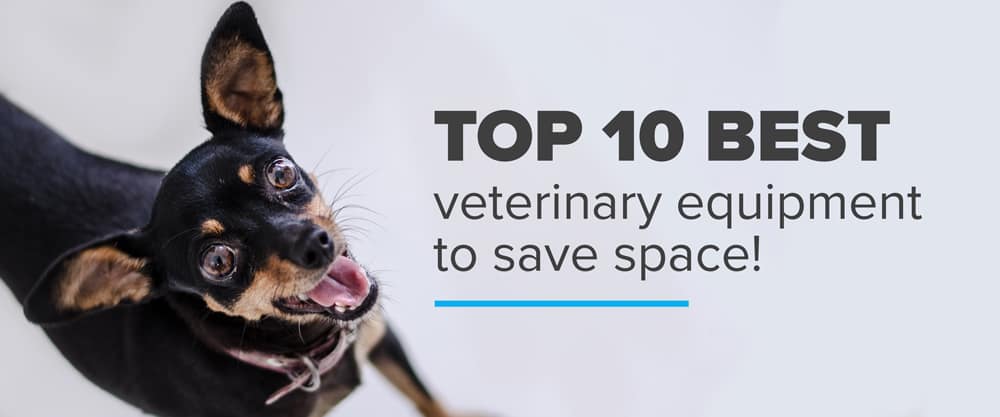 Are you planning to open a veterinary clinic or in need of a new piece of equipment, but are limited space? For your convenience, we have prepared a guide for each device by category that require the least amount of floor/countertop space.
Depending on space available in your clinic, we have several options as a space saver in terms of anesthesia machine.
When looking for a dental unit with the smallest possible footprint, but without compromising on the specifications, you will want to opt for a wall-mounted dental unit. By installing the head of the dental unit on the wall, you will save floor space. With this feature, you can place your compressor in a cabinet, instead of using a mobile base (saving space). If space is also limited on your wall, the Highdent Intro is our smallest dental head.
Our table of choice when looking to save space is definitely our scissor table with the built-in scale. The combination of the scale and table top is perfect for weighing, examining and even operating on your patient. it is a complete 3-in-1 product without compromising on the ergonomics, stability and product quality!
Our custom sizes are perfectly adaptable to your space and limited dimensions in addition to optimizing your unused space.
When planning the pen area, look for a double-door cages with a divider, this gives you the option of having one large door or divide the cages in 2 independent unit for 2 smaller patients.
Our complete and smallest monitor is definitely the Lifewindow One. If you want a larger monitor like the LW8 and the LW9, make sure you have a shelf on your anesthesia machine to optimize your anesthesia machine footprint!
When comes to evacuation system, you most certainly don't want to cut corners on product quality, as this could affect the health of your patient and staff. Our semi-active scavenger interface with the integrated ventilator is a great space-saving option, as it combines the ventilator and interface into one small module that is installed on the anesthesia pole or on the wall for the wall-mounted anesthesia machines.
Our team will be pleased to help if you may need assistance.
Does your equipment
require preventative maintenance?
Start using your unit with good maintenance habits. Let's give yourself relief and avoid stress by subscribing to our automated maintenance reminders. We will be guiding you in using the unit to its full potential and optimizing its operating service time.