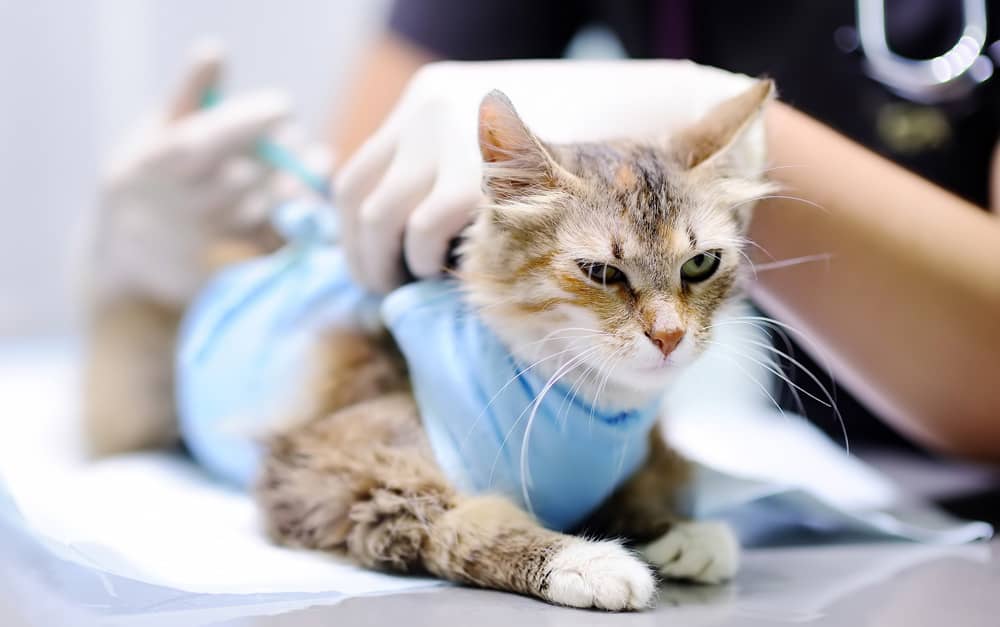 Feline panleukopenia, sometimes known as feline distemper, is a highly fatal viral disease of cats worldwide characterised by gastroenteritis and immunosuppression.
In this article, we review risk factors and prevention of feline panleukopenia, with a particular focus on the use of feline panleukopenia vaccines.
Feline panleukopenia: symptoms and survival rates
Feline panleukopenia is caused by feline panleukopenia virus (FPV), a parvovirus with over 98% genome sequence similarity with canine parvovirus (CPV). As with CPV, FPV has a tropism for highly actively dividing cells, particularly those of the intestinal lining and bone marrow.
Infected cats present peracutely with vomiting, diarrhoea (which may be haemorrhagic), pyrexia and secondary dehydration. Bone marrow and lymphoid tissue involvement results in striking depletion of all major leukocyte subsets as well as anemia.
As a result of broad leukopenia, affected cats may also acquire secondary infections, making oculonasal purulent discharge another frequent finding. Kittens infected in utero may suffer congenital neurological disease, most commonly cerebellar hypoplasia, resulting in permanent dysmetria, ataxia and tremors.
Feline panleukopenia has a mortality rate of around 50%, though in untreated kittens this approaches 90-100%.
Epidemiology and risk factors
FPV is found worldwide, and all members of the Felidae family can be infected. Young cats and kittens are most commonly affected, though cats of all ages are susceptible. FPV is predominantly a fecal-oral agent but can be spread in other secretions and urine.
FPV is a profoundly contagious pathogen and is particularly a problem for premises of high-throughput, densely populated numbers of cats of variable vaccination status, for two main reasons.
Firstly, infected cats shed enormous numbers of FPV virions. Shedding often only lasts a few days, but can occur both before, and up to 6 weeks after the onset of clinical signs. Secondly, as a non-enveloped virus, FPV can survive in the environment for a staggering one year, highly resisting degradation by UV light, desiccation, and some popular disinfectants.
Cats most likely to acquire FPV infection are:
Under 1 year of age
Stray or sheltered
In boarding catteries
In pet stores
Unvaccinated
Control and prevention of FPV infection
Environmental control of FPV is essential to successful control and prevention. When de-contaminating surfaces, food bowls, litter trays and other fomites, the correct choice of disinfectant is critical.
Quaternary ammonium compounds are ineffective against FPV. Sodium hypochlorite (i.e. bleach)-based products are highly efficacious. However, bleaches stain equipment, and are vulnerable to inactivation by organic debris. Potassium peroxymonosulfate (e.g. Virkon™) avoids these issues and reliably destroys FPV.
In veterinary clinics, hospitalised FPV-infected cats should be strictly isolated to prevent new nosocomial cases. Isolation should be 4-6 weeks given the possibility of shedding the virus for this period. Many cats will be discharged before this, so owners should attempt temporary social isolation at home, especially from young cats and kittens.
Vaccines for feline panleukopenia
Feline panleukopenia is a vaccine-preventable disease. Feline panleukopenia vaccines are available in modified live virus (MLV) and inactivated forms, available as an injectable, and in some countries, an intranasal product.
FPV vaccines are core. The European Advisory Board on Cat Diseases (ABCD) recommends all cats receive the vaccine even if they live 100% indoors. FPV vaccines are commonly sold as trivalent products combined with feline herpesvirus type 1 (FHV-1) and feline calicivirus (FCV) – two other core vaccines.
FPV vaccine protection is mediated through both anti-FPV antibodies and T cell-mediated immunity, although kittens are reliably protected in the first few weeks of life by maternally-derived antibodies (MDAs), indicating that a humoral immune response alone can be protective.
Feline panleukopenia vaccine efficacy
FPV immunity is generally very good. Protection following natural infection is probably lifelong, and FPV vaccines can induce high antibody titres and protection from challenge for up to seven years. Regardless, manufacturers recommend more frequent immunisation to guarantee continuous cover.
Nearly all available FPV vaccines today are MLV-based as these provide more rapid, longer-lasting protection. There is currently no evidence that intranasal FPV vaccines induce immunity more rapidly than injectable vaccines.
Feline panleukopenia vaccine schedules
Licensed FPV vaccine schedules generally dictate an initial subcutaneous dose at 8-9 weeks of age, followed by a booster 3-4 weeks later. This is then followed by a booster injection 12 months later, and boosters every 3 years thereafter.
However, of great concern is protecting kittens with waning MDAs (which persist until anywhere from 6-12 weeks of age). Low levels of MDAs do not protect against FPV but impede development of a good humoral immune response to vaccination.
To overcome the problem of MDAs, the ABCD recommends a third vaccine dose 3-4 weeks after the second, given no earlier than 16 weeks of age, especially in shelters and breeding premises. Pregnant cats in these environments usually have high exposure to FPV which leads to high levels of longer-persisting MDAs in their offspring.
The American Association of Feline Practitioners (AAFP) Feline Vaccination Advisory Panel recommends a different protocol, commencing vaccination at 6-8 weeks of age, with 3-4 weekly injections until 16-20 weeks of age. However, this is not assessed by vaccine manufacturers for safety.
There is no perfect one-size-fits-all FPV vaccination protocol. Veterinarians should assess each case on the basis of risk to the individual animal, paying particular attention to the environment in which the cat resides.
Contraindications for FPV vaccines
As a core vaccine, there are relatively few situations in which FPV vaccination is not indicated.
Cats with ongoing disease
Cats suffering chronic but controlled disease (e.g. endocrinopathies, renal disease) should still be vaccinated. Acutely clinically unwell cats (particularly those displaying pyrexia) should not.
Vaccination of pregnant cats involves carefully weighing up the risk of fetal injury or death against that of the queen to a vaccine-preventable disease.
While most guidelines recommend against vaccinating pregnant animals, in many shelter contexts vaccines are still given. For example, the University of Wisconsin-Madison Shelter Medicine Program advocates vaccinating pregnant cats against FPV in nearly all circumstances.
Immunosuppressed cats in general should be not vaccinated, owing to a lack of guaranteed induced protection, and in the case of MLV vaccines, the possibility of virus replication and subsequent disease.
Typical causes of immunosuppression include corticosteroid use, chemotherapy, and cats with immunosuppressive infectious diseases. However, in the case of feline leukaemia virus (FeLV)-infected cats, the ABCD still recommends FPV vaccination. The advisory board also endorses vaccination of feline immunodeficiency (FIV)-positive cats where risk of FPV exposure is high, but only with an inactivated vaccine.
Studies have shown that anesthesia and neutering at or near the time of first vaccination does not impair antibody responses in kittens. Thus, cats can be vaccinated in the perioperative period while still under anesthesia for spaying or neutering in order to facilitate handling.
Side effects and adverse events of FPV vaccines
Adverse events from FPV vaccines are rare. Mild adverse events include vocalisation at the time of injection, and transient regional inflammation at the vaccine site. Where a trivalent FPV/FCV/FHV-1 vaccine is given with an FeLV vaccine diluent, one manufacturer notes the occasional presence of a benign skin nodule which may last up to two weeks.
A major 2007 study in adverse vaccine reactions in cats found only 0.52% of vaccinations resulted in an adverse event. The most common of these were fever and lethargy, accounting for half of such events. Where Chlamydophila was vaccinated against alongside the core trivalent vaccine, the risk of fever was greater.
The development of feline injection site sarcoma (FISS) is a risk for cats receiving repeated vaccinations throughout life. There is considerable debate around which types of vaccine are more likely to cause FISS. A 2003 study found no association between any particular type or brand of feline vaccine and development of FISS. It is probably prudent to attempt lifelong site rotation for all injections in cats.
Use of MLV vaccines in pregnant cats could in theory cause congenital cerebellar hypoplasia in unborn kittens.
Summary
Feline panleukopenia represents a significant threat to feline health globally. The disease remains a significant challenge, particularly in shelters. Environmental control measures and quarantine of infected animals should be complemented by blanket vaccination to provide protection at the population level.
FPV vaccines are highly efficacious and have a good safety record, but may require tailored protocols for kittens in high-risk environments.
References and further reading
Scott FW, Geissinger CM. Long-term immunity in cats vaccinated with an inactivated trivalent vaccine. American Journal of Veterinary Research 1999. 60:652-658.
Patterson EV, Reese MJ, Tucker SJ et al. Effect of vaccination on parvovirus antigen testing in kittens. Journal of the American Veterinary Medical Association 2007. 230:359-363.
Truyen U, Addie D, Belak S et al. Feline panleukopenia: ABCD guidelines on prevention and management. Journal of Feline Medicine and Surgery 2009. 11:538-546.
Disease information fact sheet: feline panleukopenia. AAFP feline vaccination advisory panel [Online]. Available at:
https://catvets.com/public/PDFs/PracticeGuidelines/Guidelines/Vaccination/FelinePanleukopenia_FactSheet.pdf
Guidebook: Feline Panleukopenia. University of Wisconsin-Madison Shelter Medicine Program [Online]. Available at: https://www.uwsheltermedicine.com/library/guidebooks/feline-panleukopenia/vaccination
Moore GE, DeSantis-Kerr AC, Guptill LF et al. Adverse events after vaccine administration in cats: 2560 cases (2002-2005). Journal of the American Veterinary Medical Association 2007. 231: 94-100.
Kass PH, Spangler WL, Hendrick MJ et al. Multicenter case-control study of risk factors associated with development of vaccine-associated sarcomas in cats. Journal of the American Veterinary Medical Association 2003. 223:1283-1292.