Why use it?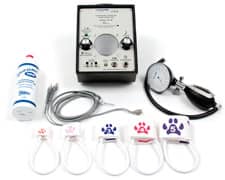 One of the objectives of anesthesia is to provide adequate blood flow to tissue. One way to assess blood flow is to measure blood pressure (ideally mean blood pressure) and heart rate.
Most of the time, in small animal anesthesia, blood pressure is measured non-invasively. It is, however, possible to measure blood pressure invasively to obtain a more precise value. Only non-invasive blood pressure monitoring techniques are explained below. Non-invasive blood pressure can either be monitored with oscillometric devices (PetMap for example) or with a Doppler flow monitor.
When measuring blood pressure with an oscillometric device, the cuff is first inflated (usually under control of the device) and then slowly deflated. During deflation, the oscillometric device analyzes the variation of pressure in the cuff. When the pressure in the cuff gets near arterial blood pressure, the pulsation of the artery alters the pressure in the cuff. The analysis of the pressure variations in the cuff is used by the device to calculate or measure systolic, mean, and diastolic blood pressure. Heart rate is also calculated.
Advantages
Non-invasive
Data for systolic, mean, and diastolic blood pressure
Disadvantages
Intermittent measurement of blood pressure
Data may be false for small patients and cats
Data may be false in case of arrhythmia
When to use?
Hypotension is one of the common risks of anesthesia. Non-invasive blood pressure monitoring is easy and quick to install and should be used for every patient. Blood pressure monitoring can be placed before induction if the level of sedation allows it.
With the oscillometric devices, blood pressure is only assessed at each inflation of the cuff. This should be done at least every 5 minutes during anesthesia. It is also useful to check the value of the calculated heart rate each time. If the heart rate is different from the real heart rate, the pressure values are unreliable.
In general, a systolic blood pressure below 100 mmHg or a mean blood pressure below 80 mmHg should be a concern. A systolic blood pressure below 80 mmHg or a mean blood pressure below 60 mmHg is a major concern.
Related Products we Have for You!