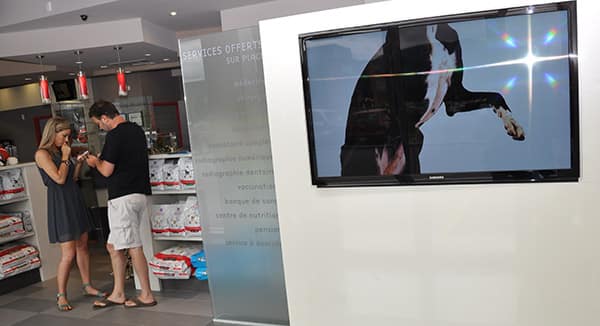 Renovating or opening a veterinary clinic is an ambitious endeavour. Dispomed's staff can relieve some of the stress that can accompany such a large scale project. A qualified sales representative can help to determine your needs in advance which can avoid costly errors and omissions later.
1. IDENTIFY YOUR NEEDS
for Renovating or opening a veterinary clinic
LOCATION
Once you have chosen the ideal location for your new clinic contact Dispomed to start the planning process. Your representative will help you to prepare a step-by-step schedule, making sure nothing is forgotten.
OXYGEN AND EVACUATION SYSTEMS
The location and installation of the oxygen and gas evacuation systems is an important part of the construction or renovation of your clinic. We recommend that once your building plans are completed, you take the time to meet with your contractor and your representative in order to discuss this sometimes complex task of installing these systems.
ANESTHESIA
The next step is to decide on your anesthesia needs so that the number of oxygen outlets can be determined. Planning where to install these outlets can avoid problems such as needing to xray a patient under anesthesia, but not having an oxygen outlet in the xray room.
CAGES AND PEN DOORS
Dispomed can prepare tailored plans for your cages and pens which will optimize the available space. The delivery delay for cages and pen doors is four to six weeks so it is important to foresee the purchase of these articles in advance.
CHOICE OF EQUIPMENT
The next step consists of preparing a list of equipment. Your representative can help you choose the models that will best suit the needs of your practice.
From the size of autoclave to the model of microscope, Dispomed's team can answer your questions and respond to your needs while respecting the standards required by your veterinary association.
2. AFTER SALES SERVICE
for Renovating or opening a veterinary clinic
INSTALLATION*
We understand that your time is precious, which is why we offer installation services for your equipment and cages.
TRAINING*
When you purchase from Dispomed we provide free training so that you can use your equipment to its full capacity from the moment you open the doors to your new clinic.
MAINTENANCE AGREEMENT*
Dispomed's maintenance agreement offers discounts on purchases and provides regular maintenance, thus ensuring the proper functioning of your equipment.
FOLLOW-UP
Once the renovations are completed and your clinic is open, Dispomed's continuous support allows us to follow the evolution of your clinic in order to ensure your practice's ever-changing needs.
[divider]
* These services are available in Canada only.
[divider]