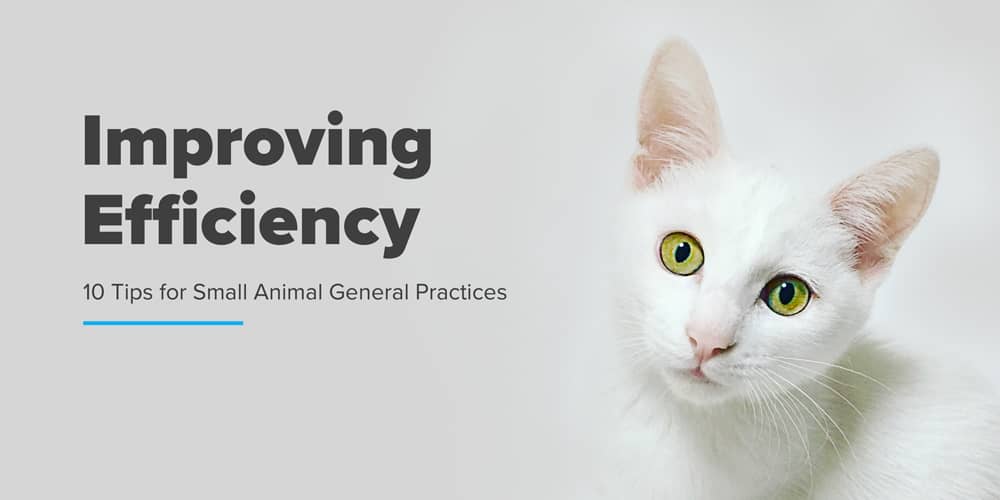 While efficiency has long been an area of discussion in veterinary medicine, it has become even more important in recent months, as veterinary practices deal with growing client demand and staff shortages. If you are feeling overwhelmed, you are not alone! The media is full of stories about overwhelmed veterinary practices, all of which are attempting to see ever-increasing numbers of pets while facing critical staffing shortages.1,2
A recent article by the American Veterinary Medical Association explored the current veterinary care crisis in more detail. The authors of this study found that there has not been a dramatic increase in total pet ownership during the COVID-19 pandemic, but existing clients are increasingly seeking higher levels of care for their pets. This results in more frequent veterinary visits, as well as more diagnostics and treatments associated with each visit. Additionally, the study authors concluded that much of the strain in veterinary hospitals appears to be caused by staffing challenges and a decrease in overall practice efficiency. 3
Although there are many opinions and theories about the root cause of the current veterinary care crisis, few veterinary practices are untouched by its impacts. No one knows whether this crisis is simply temporary, or whether we are seeing a "new normal" in veterinary medicine. What is clear, at least for now, is that all practices need to be examining their operations and looking for ways to function more efficiently.
Consider these ten tips to increase the efficiency of your small animal general practice.
1. Focus on employee retention.
Turnover in the veterinary field has always been high, and COVID has exacerbated this issue. In general, veterinarians have twice the turnover rate of human physicians, and credentialed veterinary technicians experience significantly more turnover than human nursing staff.3 Employee turnover is recognized as a leading cause of inefficiency, for a number of reasons. First, you are likely to experience a gap between losing one employee and being able to hire another employee. Equally important, however, is the investment of time and resources that are required to train a new employee.
Focus your efforts on employee retention. Ensure that you are paying your employees well and offering high-quality, valuable benefits. Look to your employees and their needs when creating benefits programs; while standard benefits, such as health insurance and retirement accounts, have significant value, you may be able to set yourself apart by offering less-common benefits such as a gym membership or on-site childcare. These benefits could make a big difference in your ability to retain employees. Additionally, ensure that your employees are happy at work and feel appreciated. While pizza lunches and other gestures can help, the daily work environment plays a far greater role in how most employees feel about their workplace. Minimize workplace drama and flaring tempers, instead of focusing on creating an environment where all of your team members feel respected and valued.
2. Cross-train your employees.
In a typical veterinary practice, the absence of just one or two employees can cause significant disruption. Whether your employee is ill, on vacation, or has unexpectedly resigned, the absence of a highly skilled employee can negatively impact the practice if no one else is prepared to step up and take over that person's responsibilities.
The solution is to focus on cross-training. Ensure that your employees have both the training and experience to cover for each other in alternative roles when necessary. Yes, it is true that cross-training takes time, but this is a time investment that you cannot afford to ignore. Lighten up your appointment schedule for a week or two, if needed, but ensure that your team is cross-trained so you can continue running smoothly in a pinch.
3. Assign employee roles every day.
In some veterinary practices, every staff member jumps in and helps where needed. While this can work well in a perfect world, it can also lead to confusion, redundancy, and hesitation. Establish clearly defined roles for each employee at the start of each shift. When each employee understands their role and responsibilities, there will be less conflict and confusion among your team.
4. Schedule appointments appropriately.
Carefully consider your doctors and paraprofessional staff to ensure that you are scheduling optimally. Even if your practice has always scheduled appointments in a certain way, be open to change and consciously evaluate your scheduling procedures. Determine how long you need to schedule for a new patient visit, a wellness exam, a sick patient visit, and a recheck, then educate your receptionists on your scheduling recommendations.
Most days, your practice will also have clients calling for same-day illness visits. How does your practice handle those? Consider blocking off several afternoon appointments for these same-day visits. Alternatively, you might encourage these owners to drop off, so their cases can be worked in throughout the day. Will you charge an additional fee for same-day appointments? If so, determine that fee and communicate it with your staff. Although true emergencies always have the potential to interfere with your plans, proper planning can minimize the disruption associated with illnesses and injuries.
5. Use technology to your advantage.
Many veterinary practices dedicate a large portion of their receptionists' time to appointment reminder phone calls. Determine whether your practice's software has an option to send appointment confirmations via text messaging or email. You may still need to follow up with some clients via phone if you do not receive an electronic response, but this approach can significantly decrease your receptionists' telephone time.
6. Use templates to save time on records.
Switching from paper to paperless records can be a big time-saver, but you can further increase your time savings by taking advantage of templates. Many software systems already have internal templates, which you can modify to suit your preferences. If your practice software does not contain templates, consider using another word processing program to create templates that can be easily accessed from any computer in your hospital. Medical record templates can save significant time for you and your staff.
7. Simplify prescription refills for your clients and staff.
If a pet is going to remain on a particular medication long-term, make refills as easy as possible. Consider sending home up to three months of medication at a time. Refilling medication every three months instead of monthly is a significant time-saver for your practice's receptionists and veterinary technicians.
Ensure those accurate refill instructions are entered on the medication label and/or in the chart. If you know that this pet will remain on the medication for a year before needing an exam, assure that you authorize enough refills that you will not need to review the patient's chart for every single refill. This can offer you significant time savings, while also reducing the time that your team needs to spend handling each refill request.
8. Develop a system for online prescriptions.
Most veterinary practices dedicate a significant amount of time to reviewing online prescriptions. Decide on a system that you are comfortable with, in order to limit the uncertainty and chaos that often accompany online requests in a busy practice.
Some practices decline all faxed requests, instead of requiring clients to request a written prescription at the time of their appointment. Others assign prescription refills to a given employee or role within the hospital; they review pharmacy requests daily, authorizing or declining requests as appropriate, and forwarding requests to the veterinarian for review when needed. Creating an organized system can minimize the disruptions caused by online pharmacy requests.
9. Schedule drop-off and discharge appointments.
Avoid the morning rush by scheduling your surgical drop-offs as appointments. This ensures that your trusted surgery technician(s) can personally speak to each owner, answering their questions and collecting necessary information. This approach will minimize the need to play phone tag with clients later in the day.
Similarly, schedule discharge appointments for all admitted patients. This allows you an opportunity to ensure that all materials are prepared prior to discharge, and for you or a qualified technician to speak with clients in an exam room. Providing a detailed discharge in a distraction-free setting will maximize the chances that all of the client's questions are answered before they leave, decreasing the likelihood of complications that will need to be addressed.
10. Prepare for appointments in advance.
When a new client calls the practice, receptionists should collect as much new-client information as possible via the telephone. Consider creating a new client information form that clients can complete via email, to cut down on in-clinic paperwork. Receptionists should also call prior veterinarians to receive the pet's medical history prior to the appointment so that veterinarians and veterinary technicians are not kept waiting for records to be faxed.
Efficiency is Key
Veterinary clinics have always had the potential to be a stressful environment, and that is especially true right now. As an increasing number of practices look for ways to provide more services with fewer staff, a focus on efficiency is key. Remain open-minded and be willing to evaluate your practice's workflows from a detached perspective, looking for opportunities to increase efficiency across your entire team.
References
1. Rush, M. (July 30, 2021). After 'pandemic pups,' local veterinary clinics are overwhelmed and overbooked. Chicago Tribune. Retrieved from: https://www.chicagotribune.com/news/ct-veterinary-clinics-overwhelmed-pandemic-20210730-6lepvbaanbbwvg2sgilpyxfmxa-story.html Accessed September 20, 2021.
2. Simon, S. (May 15, 2021). Vets Are Facing Burnout Amid Pandemic Pet Adoption Boom. National Public Radio. Retrieved from: https://www.npr.org/2021/05/15/997105693/vets-are-facing-burnout-amid-pandemic-pet-adoption-boom Accessed September 20, 2021.
3. Salois, M., Golab, G. (August 25, 2021). Are we in a veterinary workforce crisis? Understanding our reality can guide us to a solution. JAVMA News. Retrieved from: https://www.avma.org/javma-news/2021-09-15/are-we-veterinary-workforce-crisis Accessed September 20, 2021.