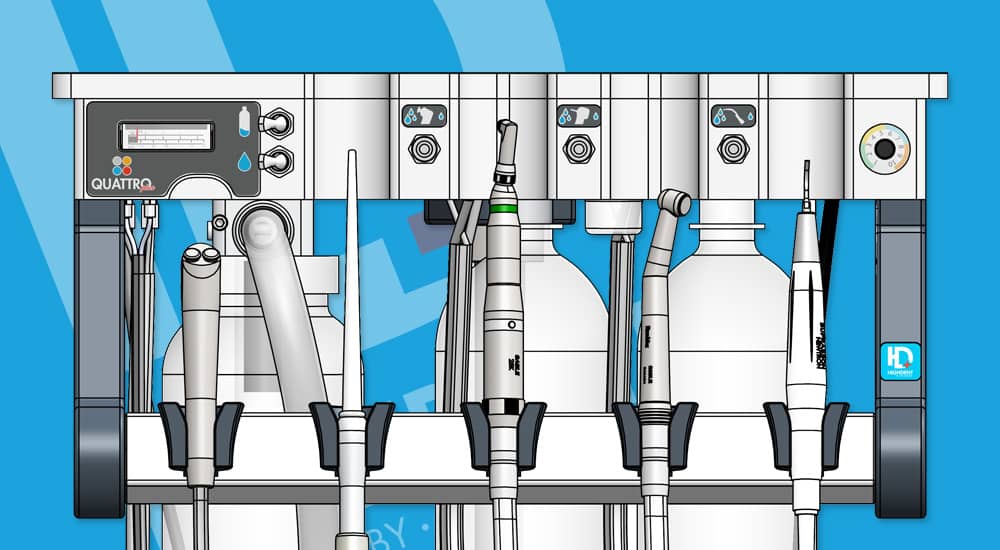 A properly maintained machine reduces air consumption and extends the life of the unit.
Prerequisites: Air supply : 75 to 85 psi (5.5 bar) – Electrical : 110-240 vac (option).
Daily Maintenance Procedure.
The low speed handpiece can be broken down into three parts. Disassemble the three parts, lubricate the second larger holes, lubricate both ends of the contra-angle and finally lubricate the prophy-angle. Once this is done, re-assemble and operate the handpiece for 10 seconds, then wipe clean the excess oil on the exterior of the handpiece.
Weekly maintenance procedure
Verify the pressure of the handpieces (with the exception of the Piezo) and adjust, if necessary. Manufacturer's guidelines can vary, but the pressure should be set to approximately 30 psi for low speed handpicks and 40 psi for high speed.
An annual preventive maintenance is recommended. The maintenance consists of replacing all filter elements, changing the oil in the compressor, checking for leaks, resetting pressures, and completing performance analysis. Contact your Highdent™ supplier for further details.
Maintenance kit
Humidity filter – 260-C01642
Air filter – 260-C0011
Oil filter – 260-C0164N7
Compressor oil – 260-15280