This is a question that needs to be asked in any veterinary clinic where we find an x-ray machine. Your x-ray protective clothing needs to be verified to ensure the security of the staff when taking x-rays. Health Canada regulates radioprotection in veterinary clinics for protective clothing.1
Foremost, the obligatory protective clothes to be worn during x-rays are the apron, the mittens or gloves, and the thyroid collar. These three items are considered mandatory to ensure maximum security for the concerned staff.
Why should I protect those areas?
When taking X-rays, the parts of the body that are most at risk of the dangers of exposure to X-rays are protected. The thyroid gland, the lungs, and the heart are at higher risk of getting cancer. The hands must also be protected as they are directly exposed to radiation in certain situations when it is necessary to hold the animal in place on the X-ray table.
Attenuation
Protective clothing must ensure equivalent attenuation to at least 0.5 mm of lead for voltages of 150 kVp.
Labelling
The lead equivalent thickness of the material must be permanently and legibly marked on each garment at all times. Otherwise, the protective garment isn't in conformity.
Storage
All clothing must be stored in accordance with the manufacturer's recommendations. To prevent lead deterioration, it is recommended to hang clothes on support designed for this purpose. If heavy objects are placed on protective clothing, there is a risk of cracking the lead.
Verification of your X-ray protective clothing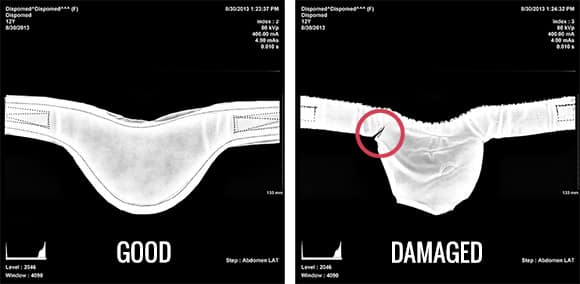 An x-ray of each garment is highly recommended once a year or when a fault is suspected. This integrity test will ensure that the lead is in perfect condition, that is to say, without any cracks. If this is the case, the radiation can pass through the protective clothing and may reach your organs.
¹ Protective clothing regulations
Protective aprons, gloves, and thyroid shields used for veterinary X-ray examinations must provide attenuation equivalent to at least 0.5 mm of lead at X-ray tube voltages of up to 150 kVp. The equivalent lead thickness of the material used must be permanently and legibly marked on the protective device. Protection must be provided throughout the glove, including fingers and wrist.
Protective aprons, gloves, and thyroid shields must be stored and maintained according to manufacturers' recommendations. It is also recommended that protective aprons, gloves, and thyroid shields are checked by radiographing them annually or when damage is suspected.
Veterinary x-ray equipment
and accessories
Take advantage of Dispomed service
plan to have your dental unit ready!
Make sure to have a Dispomed service plan to get the fastest assistance for your dental unit maintenance during this busy month! Are you aware that using Dispomed for annual maintenance on your veterinary equipment makes you eligible for discounts on all products and services?   You will also find that Dispomed offers excellent value, industry-leading, comprehensive inspections, approved reports for your records and unmatched customer support. We also provide loaner equipment to keep your clinic up and running when your machines need repair.
What time of year do you usually have your equipment maintained? Your Dispomed team would be happy to contact you closer to that time and provide you with a quote and summary of our services.
Working with companies that can handle some of the growing difficulties your business might experience is really helpful in keeping you stay focused on what matters the most: your patients' health. Working with people who are experienced and knowledgeable in each of their fields to guide you is the best way to save time, avoid loss of money, and lower your stress level.