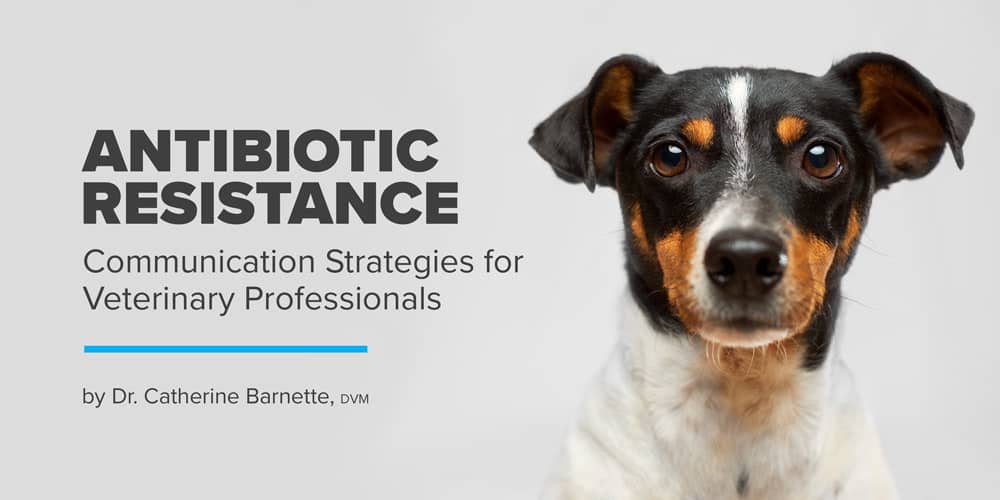 Antibiotic resistance has been recognized by the World Health Organization as "one of the biggest threats to global health, food security, and development today."1 As of 2013, antibiotic-resistant infections were estimated to account for approximately 2 million illnesses and 23,000 deaths every year among human patients in the United States.2 Antibiotic resistance has become an increasingly common threat to food animal production, especially in lower-income nations.3 Clearly, antibiotic resistance has significant public health impacts.
While we often focus on the impact of antibiotic resistance on human health, it can also dramatically affect how we care for our veterinary patients. Antibiotic-resistant bacteria, such as methicillin-resistant staphylococci and extended-spectrum beta-lactamase (ESBL)- and carbapenemase-producing Enterobacteriaceae, can pose a significant threat to pets.4 While there may be alternative treatments available for antibiotic-resistant infections, these treatments can be less effective and more expensive for clients.
The Role of Small Animal Veterinarians in Antibiotic Resistance
Studies have demonstrated that antibiotic-resistant bacteria can be transmitted between pets and humans, both in the veterinary and household setting.5,6 This highlights the impact that veterinarians can have on human health, because veterinary drug prescribing tendencies may directly impact the likelihood of antibiotic-resistant infections in humans.
The American Veterinary Medical Association (AVMA) outlines three guidelines for the judicious use of antibiotics in animals:
Use antibiotics only when they are necessary for the treatment of a bacterial infection.
Use the most appropriate antibiotic for a given bacterial infection.
Use the correct dose, frequency, duration, and route when administering antibiotics.7
While all of these guidelines seem reasonable and intuitive, the evidence suggests that they are not always followed. In fact, a 2009 study conducted at a veterinary teaching hospital found that only 17% of patients receiving antibiotics to treat infection (as opposed to perioperative antibiotics or the use of metronidazole to treat diarrhea) had evidence of a confirmed infection. Suspected infection was documented in 45% of patients (for example, an open wound, neutrophilic fluid with no visible bacteria, or evidence of pneumonia on radiographs), while 38% of patients had no documented evidence of infection in their medical record.8
Surveys of veterinarians and pet owners suggest that there are numerous motivators behind antibiotic use in small animal species. Many veterinarians feel that clients expect to receive antibiotics for their pet's condition, thus leading the veterinarian to feel pressured to prescribe antibiotics. Pet owners, when surveyed, claim that they do not expect antibiotics, leading some to question whether veterinarians are arriving at this conclusion erroneously.9 While it is hard to know who is correct in this assessment, it appears that communication is key to reducing antibiotic prescriptions in veterinary medicine.
Communication to Reduce Antibiotic Resistance
In order to make changes in your antibiotic prescribing, you must feel confident communicating with clients about the issue of antibiotic resistance. You must be able to override client objections without appearing confrontational, creating a positive, client-centered experience that does not rely excessively on antibiotic therapies.
While there has been little research on the topic of communicating with pet owners about antibiotic resistance, this topic has been studied extensively in human medicine. Physicians and other human healthcare professionals have developed a number of strategies for limiting the use of antibiotics through effective communication.
A number of these strategies can easily be adapted to veterinary medicine:
1. Explain when antibiotics are not indicated for a particular case and why they should be avoided.
When you diagnose a condition, it is important to clarify immediately whether antibiotics will be helpful in treatment.10 When a client brings their cat in for a suspected urinary tract infection and you diagnose feline interstitial cystitis, for example, you might explain, "Your cat has feline interstitial cystitis, which is bladder inflammation that is not associated with an infection. Antibiotics will not help this condition and could actually lead to antibiotic resistance."
Depending on your client, they may have additional questions about antibiotic resistance. Be prepared to answer these questions and engage with clients on this topic, helping them understand the risks associated with antibiotic resistance and why your treatment plan is in the best interest of their pet.
One study found that antibiotic prescriptions in acute respiratory illness decreased by 33% when physicians were given communication training that involved discussing the pros and cons of antibiotic usage and talking to clients about their understanding of antibiotic resistance.11
2. Think about your phrasing when explaining a pet's diagnosis.
Words matter. When clients hear the phrase "infection," their minds may automatically begin to think of antibiotics. Instead, consider using words that are specifically associated with a viral illness. Human patients, for example, are less likely to expect antibiotics for a "chest cold" than they are for "bronchitis."12 In a similar vein, think of the impact that diagnosing "a cold" versus "an upper respiratory infection" may have on your client's understanding and expectations. Appropriate medical terminology plays an important role in medical records but may carry unexpected connotations for some clients.
3. Give concrete treatment recommendations, even if you are not prescribing medication.
When clients bring their pets in for veterinary care, it is because they want to be proactive and do something to help their pets. Give concrete recommendations for home care, even if you are not prescribing medication.13 For example, you might instruct the owner of a cat with an upper respiratory infection to clean their cat's eyes and nose with a warm cloth daily and to feed warm canned food. Owners of cats with feline interstitial cystitis should receive information on multimodal environmental modification. These interventions are just as important as antibiotics and clients are often pleased to learn that there is something they can do to help their pet.
4. Provide clients with a backup plan, in case their pet does not improve without medication.
Cases can change, and it is important for clients to understand that their treatment plans may also change. Explain to clients what will happen if their pet is not improving within a matter of days. Will they need to return for a recheck, or will you prescribe antibiotics if they call and report that the pet is not improving? Give clients an idea of what to expect, so they realize that their pet will not need to go without treatment.13
5. Consider delayed antibiotic prescribing, when appropriate.
Physicians commonly use a practice called "delayed antibiotic prescribing" to address conditions that usually resolve spontaneously but may occasionally need antibiotics, such as sinus infections and childhood ear infections. In these cases, a prescription is sent home with the patient, but they are instructed to only fill the prescription if their condition worsens or has not resolved within a given number of days. Studies have shown that this practice markedly reduces antibiotic usage; less than half of prescriptions that are presented in this way are actually filled.12 This practice could be considered in canine and feline upper respiratory infections, as well as some other circumstances. If you use this approach, be sure to write an expiration date on the prescription (one to two weeks in the future) so the prescription is not used for a future illness.
6. Make a public commitment to antibiotic stewardship.
One study of physicians examined the impact of displaying posters in the exam room focused on antibiotic resistance. These posters did not only serve to educate patients about the issue of antibiotic resistance, but they also included a physician's public pledge to use antibiotics responsibly, coupled with a photograph and signature. This simple act was found to reduce antibiotic prescribing by 20% in the case of adults with acute respiratory infections.14
Could you adopt this strategy in your practice? Even if you choose not to have your signed photograph on your wall, increasing the number of educational posters and pamphlets in your hospital that highlight antibiotic resistance will help establish and support a commitment to responsible antibiotic use.
The Importance of Antibiotic Stewardship
The responsible use of antibiotics is not only a public health issue, it directly impacts your ability to care for your veterinary patients. Although it may sometimes seem that all clients expect an antibiotic for their pet's illness, studies suggest that is often untrue. Instead, use open dialogue and other communication strategies to satisfy your clients while practicing responsible and appropriate patient care.
References
World Health Organization. (2020). Antibiotic Resistance Fact Sheet. Retrieved from https://www.who.int/news-room/fact-sheets/detail/antibiotic-resistance Accessed September 22, 2021.
Centers for Disease Control and Prevention. (2013). Antibiotic resistance threats in the United States. Retrieved from http://www.cdc.gov/drugresistance/threat-report-2013/pdf/ar-threats-2013-508.pdf. Accessed September 22, 2021.
Van Boeckel, T. P., Pires, J., Silvester, R., Zhao, C., Song, J., Criscuolo, N. G., Gilbert, M., Bonhoeffer, S., & Laxminarayan, R. (2019). Global trends in antimicrobial resistance in animals in low- and middle-income countries. Science, 365(6459).
Heim, D., Kuster, S., & Willi, B. (2020). Antibiotikaresistente Bakterien bei Hund und Katze: Empfehlungen für Halterinnen und Halter [Antibiotic-resistant bacteria in dogs and cats: recommendations for -owners]. Schweizer Archiv fur Tierheilkunde, 162(3), 141–151.
Loeffler, A., Boag, A. K., Sung, J., Lindsay, J. A., Guardabassi, L., Dalsgaard, A., Smith, H., Stevens, K. B., & Lloyd, D. H. (2005). Prevalence of methicillin-resistant Staphylococcus aureus among staff and pets in a small animal referral hospital in the UK. The Journal of antimicrobial chemotherapy, 56(4), 692–697.
van Duijkeren, E., Wolfhagen, M. J., Box, A. T., Heck, M. E., Wannet, W. J., & Fluit, A. C. (2004). Human-to-dog transmission of methicillin-resistant Staphylococcus aureus. Emerging infectious diseases, 10(12), 2235–2237.
 AVMA. Antimicrobial use and antimicrobial resistance. Retrieved from https://www.avma.org/resources-tools/one-health/antimicrobial-use-and-antimicrobial-resistance Accessed September 22, 2021.
 Wayne, A., McCarthy, R., & Lindenmayer, J. (2011). Therapeutic antibiotic use patterns in dogs: observations from a veterinary teaching hospital. The Journal of small animal practice, 52(6), 310–318. https://doi.org/10.1111/j.1748-5827.2011.01072.x
Smith, M., King, C., Davis, M., Dickson, A., Park, J., Smith, F., Currie, K., & Flowers, P. (2018). Pet owner and vet interactions: exploring the drivers of AMR. Antimicrobial resistance and infection control, 7, 46.
 Mangione-Smith, R., Zhou, C., Robinson, J.D., Taylor, J.A, Elliott, M.N., Heritage, J. (2015). Communication practices and antibiotic use for acute respiratory tract infections in children. Ann Fam Med. 13(3), 221–227.
 Cals, J.W., de Bock, L., Beckers, P.J., et al. (2013). Enhanced communication skills and C-reactive protein point-of-care testing for respiratory tract infection: 3.5-year follow-up of a cluster-randomized trial. Ann Fam Med. 11(2), 157–164.
 Gonzalez-Estrada, A., Radojicic, C. (2015). Penicillin allergy: a practical guide for clinicians. Cleve Clin J Med. 82(5), 295–300.
Fleming-Dutra, K. E., Mangione-Smith, R., & Hicks, L. A. (2016). How to Prescribe Fewer Unnecessary Antibiotics: Talking Points That Work with Patients and Their Families. American family physician, 94(3), 200–202.
 Meeker, D., Knight. T.K., Friedberg, M.W., et al. (2014). Nudging guideline-concordant antibiotic prescribing: a randomized clinical trial. JAMA Intern Med. 174(3), 425–431.