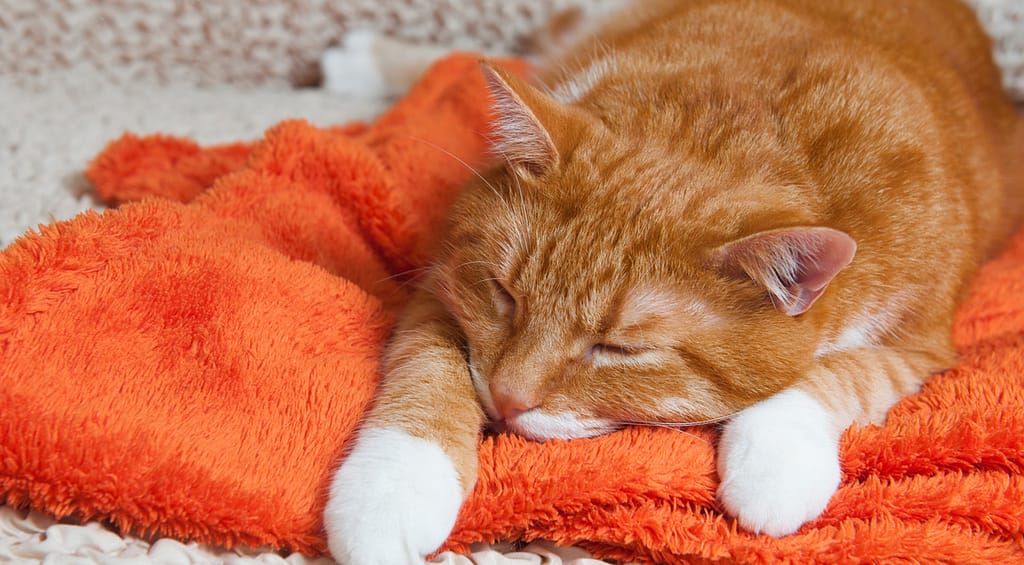 Feline inflammatory bowel disease (IBD) is a condition that causes chronic inflammation and irritation of the intestinal tract, most commonly in middle-aged cats. Inflammatory cells infiltrate the walls of the intestinal tract, leading to significant changes in the function of the intestines.
Causes of IBD in cats
The exact cause of feline IBD is unknown, but experts attribute this condition to complex interactions between the cat's immune system, bacteria living within the intestines, dietary proteins, and other environmental or genetic factors.
Food allergies, dietary intolerance, parasites, chronic infections, bacterial overgrowth, and autoimmune disease have all been implicated as potential causes. However, in most cats, no single cause can be identified.
Inflammatory bowel disease can be brought on by several unique types of inflammatory infiltrates. In general, IBD is referred to by the type of inflammatory cells that are present in the largest numbers. Common variants of feline IBD include lymphocytic-plasmacytic enteritis (the most common form), eosinophilic gastroenteritis, neutrophilic IBD, and granulomatous IBD.
Clinical signs and symptoms of feline IBD
Inflammatory bowel disease can affect the stomach (causing gastritis), any area of the intestines (causing enteritis), the colon (causing colitis), or any combination of these three.
Clinical signs vary, depending on the severity of the disease and the region of the gastrointestinal tract that is affected. Common signs include vomiting, diarrhea, weight loss, lethargy, inappetance, and anorexia. Although uncommon, some affected cats experience an increase in appetite; this is attributed to decreased nutrient absorption and malnutrition.
In many cases, the first sign of IBD is chronic, intermittent vomiting (often attributed to "hairballs"). Owners may allow this intermittent vomiting to go on for a long time before seek veterinary care, since vomiting is often considered by clients to be a common or normal occurrence in cats.
In other cats, the first sign of IBD is defecating outside of the litterbox more frequently; cats with soft stools may have discomfort with defecation and therefore be less likely to use the litterbox normally.
Diagnosing feline IBD
There are a number of potential differential diagnoses for chronic enteropathies in cats. When a cat presents with chronic gastrointestinal signs and weight loss, it's important to consider other potential causes, such as:
Intestinal parasites
Bacterial infection
Medication reaction
Toxin or plant ingestion
Gastrointestinal neoplasia
Exocrine pancreatic insufficiency
Systemic illness (diabetes, hyperthyroidism, viral illness)
As such, the first step to working up a patient with suspected IBD is often to perform laboratory tests that can help rule out other causes of chronic enteropathy.
Preliminary diagnostics to consider in patients with chronic gastrointestinal signs include:
Fecal parasite exam
Bloodwork, including a complete blood cell count, serum biochemistry, thyroid level, and folate/cobalamin levels
Feline Leukemia Virus test
Feline Immunodeficiency Virus test
Once these tests have ruled out other illnesses that may cause gastroenteritis, IBD (or other infiltrative gastrointestinal disease, such as neoplasia) becomes increasingly likely. At this point in the workup, the next step is to obtain intestinal biopsies.
Inflammatory bowel disease is definitively diagnosed only on the basis of intestinal biopsy, which will demonstrate the presence of an abnormal number of inflammatory cells within the walls of the gastrointestinal tract.
Intestinal biopsies may be obtained via endoscopy (feline patients should be anesthetized for all endoscopic procedures). Exploratory surgery is typically preferred, because it allows the examination of all abdominal organs, allows the entire gastrointestinal tract to be examined, and allows the veterinarian to obtain full-thickness biopsies.
Treating IBD in cats: diet and medication
It is important for clients to understand that feline IBD is a disease that is managed, not cured. The goals of treatment are to minimize clinical signs, maintain quality of life, and prevent sequelae such as pancreatitis, cholangiohepatitis, and intestinal lymphoma.
Foods
The first step in managing feline IBD is often a dietary change. Although IBD is not solely a food allergy, antigenic stimulation by dietary proteins may perpetuate inflammation within the intestines.
Hypoallergenic diets are often beneficial, in addition to eliminating treats, table foods, and other food items. Clients should understand that a food trial may take several weeks to demonstrate benefits.
If a cat does not benefit from a hypoallergenic diet, a low-fat, high-fiber, highly-digestible gastrointestinal diet may be attempted. Adding probiotics to the diet may also play a role in controlling clinical signs of IBD.
Antibiotics
If dietary therapy alone is insufficient, antibiotic therapy may be attempted, using metronidazole or tylosin. These antibiotics have a number of functions within the intestines, including decreasing bacterial populations, decreasing protozoal populations, and directly decreasing gastrointestinal inflammation.
Supplements
Cobalamin and folate supplementation can also play a valuable role in the management of IBD or other chronic enteropathies. Many cats are deficient in these vitamins at their time of diagnosis, due to decreased intestinal absorption.
Cobalamin can be supplemented as an injection of 250 ug subcutaneously, given once weekly for four weeks and then gradually tapered as intestinal health is restored. Folate is often given at a dose of 0.5-1.0 mg by mouth once daily, if folate levels are low on blood tests.
Corticosteroids
Corticosteroids are typically recommended in cats that do not respond to dietary therapy and metronidazole, or cats that present with signs of advanced disease (such as weight loss and/or hypoalbuminema).
Prednisolone is preferred over prednisone in cats, and should be dosed at 1-3 mg/kg once daily until the clinical signs of illness have resolved; at this time, the prednisolone should be gradually tapered (with a reduction in dose every 2-4 weeks) until the lowest effective dose has been reached.
Alternatives to prednisolone are also available. Budesonide is a corticosteroid that does not have significant systemic effects; it acts locally within the intestines but is largely removed from circulation by the liver on its first pass through the hepatic circulation. Additionally, some cats that respond poorly to prednisolone and/or budesonide may show a more favorable response to other corticosteroids, such as dexamethasone or betamethasone.
Immunosuppressants
In severe cases, corticosteroids may not be adequate to control the clinical signs of disease. Alternative immunosuppressants that may be attempted in these patients include azathioprine, chlorambucil, cyclosporine, and lomustine.
It is important to note that these medications can cause blood cell abnormalities; cats receiving these medications should have frequent bloodwork monitoring.
If none of these therapies are effective in managing a case of suspected IBD, even with a compliant owner, it may be worth revisiting the initial diagnosis. Some cases of feline IBD may be histopathologically indistinguishable from early lymphoma; advanced testing such as PCR for Antigen Receptor Rearrangement (PARR) may aid in the diagnosis of these cases.
Inflammatory bowel disease also tends to occur in association with pancreatitis and triaditis; these concurrent conditions may require additional, supplemental treatment in order to alleviate the cat's clinical signs of illness.
Prognosis
Most cats with IBD can have their symptoms well-controlled with diet and corticosteroids. Cats often still experience intermittent "flare-ups" of gastrointestinal signs, however, and clients should be instructed that this is normal and expected.
Some flare-ups may require treatment with adjunct medications (such as anti-emetics) until the gastrointestinal inflammation has resolved.
Conclusion
Effective treatment of inflammatory bowel disease relies upon establishing an accurate diagnosis, setting reasonable client expectations, ensuring client compliance, and a willingness to try a variety of therapies in order to determine the most effective treatment for a particular patient.
With these steps, most patients with IBD can be managed to allow a good quality of life, even if periodic flare-ups do occur.
Sources and additional reading