Are you running away from performing a brachycephalic obstrucive airway syndrome corrective surgery?  This will be a bad memory as soon as you will start working with the BOSS+
Are your brachycephalic obstructive airway syndrome corrective surgeries:
Tedious?
Frustrating to position for surgery?
Do they lead to:
Poor visualization inside the mouth?
An inability to adjust table height or inclination once the patient is positioned which conduces to an uncomfortable working position during surgery?
Brachycephalic breeds are becoming increasingly popular. Watch this video to see how easy it is to set up and use the BOSS+ to finally make your corrective airway surgeries easy, fast and enjoyable!
Benefits of BOSS
+
Universal rail clamp system for quick, easy and repeatable attachment onto veterinary surgical tables.
Safe, reliable and improved method of positioning for patients undergoing a variety of surgical procedures including brachycephalic obstructive airway syndrome (BOAS) corrective surgery.
Freedom and flexibility in patient positioning is another key point to improved surgeon ergonomics.
Multifunctional (not only upper airway but also oropharyngeal, perineal, and more surgeries).
Lightweight, portable, due to it's design.
Rubber-covered rope gag to allow for disinfection between procedures.
Sterilizable intraoral meshed fabric gag.
Third dimension for fixation of various accessories (articulated arm, camera, light source, etc.).
No assistants are required, which increases staff availability and efficiency.
Reduction of surgical time.
Exclusive Canadian invention.
Inventor of the BOSS
+

Brachycephalic & Orophrayngeal Surgical Stand

Philippe C. Larose, DVM

Philippe is originally from eastern Ontario, Canada. He graduated with a Doctor of Veterinary Medicine (DVM) degree from the Université de Montréal in 2018. Throughout his veterinary degree and residency, he has received several awards for his leadership, academic merit, research, and scientific presentations. Despite his demanding residency program, Philippe has also embarked on his adventure as an inventor and entrepreneur by creating the BOSS+, an innovative surgical positioning device to perform brachycephalic obstructive airway syndrome corrective surgery.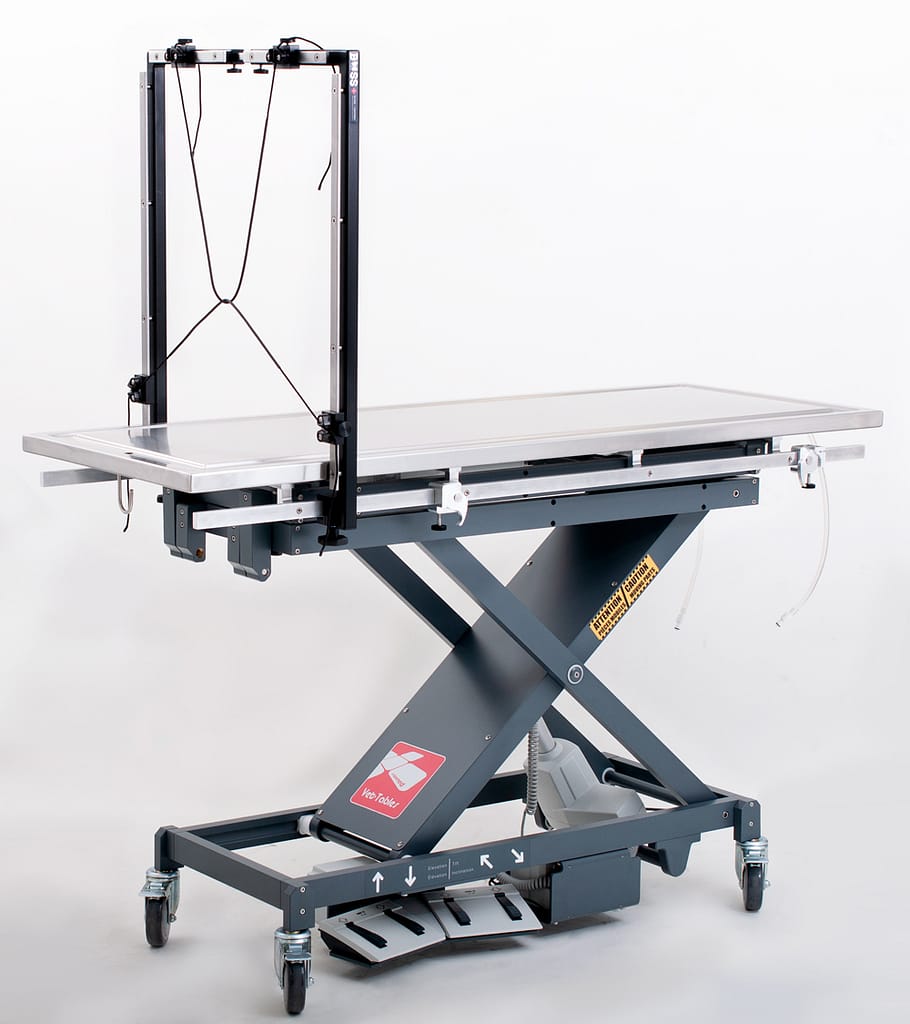 BOSS
+

Brachycephalic and Oropharyngeal Surgical Stand +
The first of its kind to allow an independent fixation system which attaches to various surgical table models as can be seen on the picture. The invention provides a safe, reliable and improved method of patient restraint for brachycephalic obstructive airway syndrome corrective surgery, oropharyngeal and even more! Through its telescopic horizontal crossbar, the surgical positioning device adapts to various table widths and its universal rail clamp system allows for fixation to various surgical tables which is different from other fixation method.