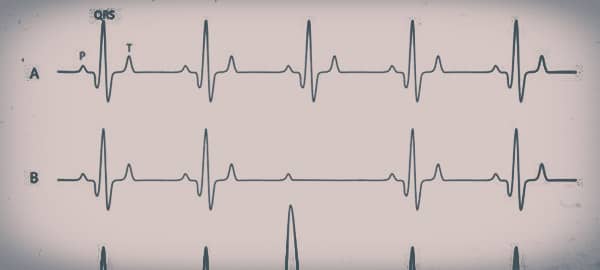 Why use an ECG?
Electrical activity of cardiac cells is responsible for the initiation of every heartbeat. Electrical activity is essential for the heart but is not correlated with the efficiency of each beat. The electrical activity can be normal, but the beat grossly inefficient. Any disturbances of the electrical activity may affect the efficiency of the heart.
The ECG measures the electrical activity of the heart between two leads. It is used as a diagnostic tool to assess arrhythmias, but it does not provide any data on the mechanical function of the heart. It is the only device available to diagnose arrhythmias. ECG devices typically calculate heart rate, but in presence of arrhythmia, or even with normal waveform, the value may be false.
Examples of ECG waveforms are provided in Figure 1.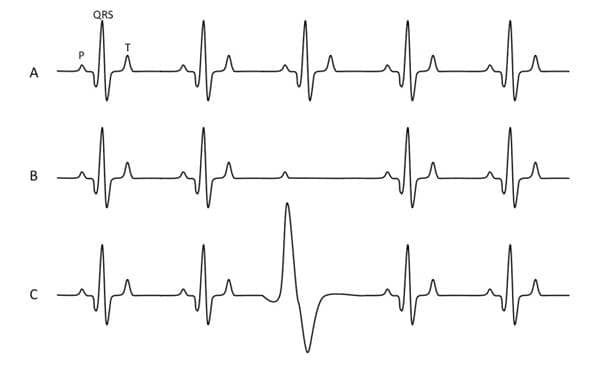 Figure 1: Typical ECG waveforms
A) Normal waveform in lead II. Waves to recognize are P-wave, QRS complex, and T-wave.
B) Typical waveform that could be obtained in a patient with a second degree atrioventricular block.
C) Typical waveform that could be obtained in a patient with premature ventricular contractions.
Advantages
Non-invasive
Continuous monitoring
Diagnostic tool for arrhythmias
Disadvantages
Only assesses electrical activity of the heart
When to use an ECG?
Patients under anesthesia can develop arrhythmias, and the ECG is the only available diagnostic tool. Additionally, ECG is recommended during cardiopulmonary resuscitation to diagnose and treat arrhythmias appropriately. Examples of common arrhythmias are illustrated in figure 4B and 4C. More information about how to diagnose and treat arrhythmia can be found in books. It is important to be able to recognize what is normal or abnormal during anesthesia, as rhythm may change quickly. Printing the waveforms is particularly useful when analyzing the ECG. Tracings should be kept in the medical file for future references.