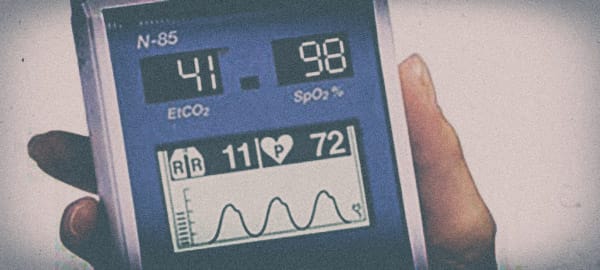 Why use a capnograph?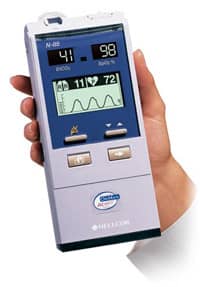 Carbon dioxide (CO2) is a metabolic by-product of cells. It is transported by the blood to the lungs, where it is eliminated. Therefore, measuring expired CO2 assesses metabolism, the cardiovascular system, and respiratory system. Additionally, as the anesthesia circuit role is to prevent the rebreathing of CO2, measuring inspired CO2 also assesses the anesthesia machine.
A capnograph measures CO2 in the air that is inspired and expired by the patient. Those devices also provide a value of respiratory rate.
The terms capnography and capnometry are sometimes considered synonymous even if they refer to two different devices. A capnometer is a device that measures CO2 only, without a continuous record. A capnograph is a device measuring CO2 with a continuous record, often in the form of a waveform.
Most devices provide a waveform (see Figure 3) representing partial pressure of CO2 in the air over time. Some devices only give the value of partial pressure of CO2 at the end of expiration (ETCO2). Analysis of the waveform is important as it allows identification of issues with the machine (leaks, dysfunctional valves, etc.) or the patient (respiratory obstruction, asthma, dead space, etc.). It can also be used to adjust oxygen flow when using a Bain circuit or checking if the soda lime is exhausted. Finally, if the waveform is not normal, ETCO2 and respiratory rate value may be false.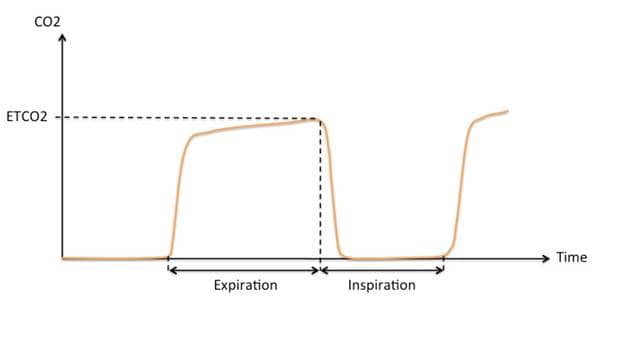 Figure 3: Normal capnograph waveform
When used on a bain circuit, and especially if the patient is small and oxygen flow high, the waveform might be different. When the expiratory part of the waveform is abnormal, the underlying problem is often the patient. When the inspiratory part of the waveform is abnormal, the underlying problem is often the anesthesia machine.
Capnograph Advantages
Non-invasive
Quick and easy to use
Continuous monitoring
Monitor ventilation, circulation, and metabolism
Capnograph Disadvantages
Increased dead space (especially for small patients)
Patients need to be intubated
When to use a capnograph?
Hypoventilation is one of the common risks under anesthesia. Studies in human medicine assessed that the use of a pulse oximeter with a capnograph could prevent up to 93% of complications during anesthesia (Tinker and Al. 1989)
A capnometer is quick and easy to use. In every case, it should be placed as soon as the patient is intubated. Its use should be continued until the patient has recovered and is extubated.
It is also essential to monitor the waveform and ETCO2 value continuously.
An ETCO2 between 35-45 mmHg is considered normal (if the waveform is normal) in anesthetized patients.