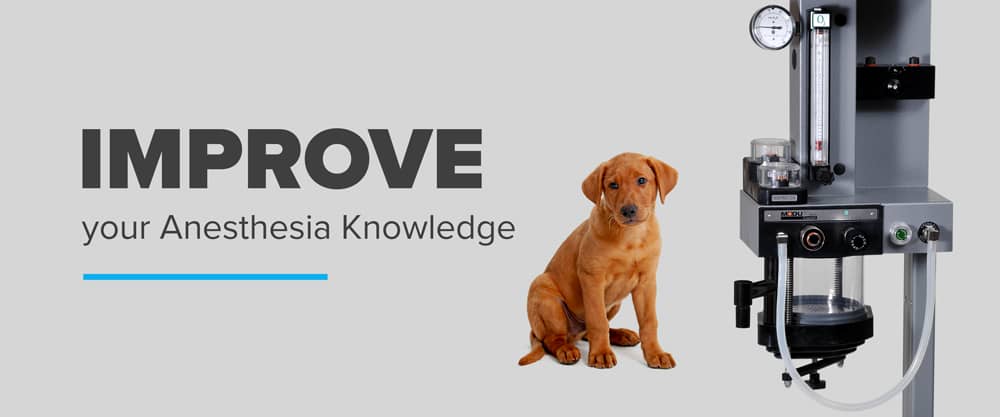 9 veterinary anesthesia continuing education resources
In this bulletin, I have assembled a list of anesthesia continuing education resources (including links) that I find well designed, with expert content, and relevant to clinical practice. I hope this list will help you navigate the ever-increasing amount of veterinary anesthesia information that is available. It is sometimes difficult to wade through all the options in order to find reliable and relevant information that is applicable to small animal practice. We, clinicians, have limited time to devote to anesthesia continuing education, so we need to be selective. Many of the sources listed below are based in the USA.
Canadian practitioners should keep in mind a few differences between anesthesia delivery North and South of the 49th Parallel as these will be reflected in course content. Here are a few examples:
Alfaxalone is a more strictly controlled substance in the USA.
Injectable methadone (Comfortan) available in Canada costs about 1/4 of the USA price
Simbadol, a concentrated (1.8 mg/mL) buprenorphine formulation is not currently licensed in Canada
Telazol (tiletamine + zolazepam) is not available in Canada
Nocita, a log-acting, liposome-encapsulated bupivacaine formulation is not available in Canada.
I hope you enjoy these CE offerings:
1. Dispomed newsletters
Why a patient circuit alarm should be mandatory
4 Tips to Reduce Risk of Anesthesia
Risk Factors in Small Animal Anesthesia
How to Detect Soda Lime Exhaustion
2. VSPN (Support Personnel) Courses Open For Enrollment 2022:
TECH177-0222: Fundamentals of Small Animal Anesthesia Module 1
TECH178-0322: Fundamentals of Small Animal Anesthesia Module 2
3. VIN (Veterinarians) Courses Open For Enrollment 2022:
ANES116-0222: Anesthesia for the Small Animal Dentistry Patient
Low-Stress Handling™ and Restraint of Difficult Dogs and Cats (BHVR902) Self-Study
4. VETgirl on-demand webinars:
Multimodal Anesthesia: CRIs for the Anesthesia Patient
Anesthetic options for the canine C-section
Top 5 ways to improve your anesthesia & patient care
How to Beat Pain and Influence Animal Behavior using Local Anesthetics
5. ThinkAnesthesia on-demand CE by Jurox:
Article: Capnography – a summary of abnormal traces
Article: Capnography – not just a lot of hot air
Webinar: Don't take my breath away: Anesthesia for Patients with Respiratory Disorders
Webinar: From home to the veterinary clinic and back – minimizing feline stress in the peri-anesthetic period
Webinar: Don't Sweat the Small Stuff: When Not to Panic During Anesthesia
Webinar: Connecting the Dots Between Shelter and General Practice Anesthesia
Webinar: The Top Five Anesthetic Complications
Webinar: Balancing Anesthesia and Common Co-Morbidities
Webinar: Pregnancy, C-Sections, and Pediatrics
Webinar: Understanding Pain and Nociception: Pathway and Assessment
Webinar: Clinical Use of Alfaxan Multidose IDX
I got a capnograph – now what?
Communicating Anesthetic Risk to Clients
Hot Cats, What Do We Know?
Dexmedetomidine in Detail
The Endothelial Glycocalyx: What is it and why should I care?
Fluid Therapy during Veterinary Anesthesia: The Good, the Bad, and the Ugly
Is Maropitant Analgesic?
Calculating Infusions of Analgesic and Anesthetic Drugs
Opioids in Veterinary Anesthesia
Greyhound Anesthesia-associated Hyperkalemia
7 things to know about buprenorphine
Should I Be Using Alfaxalone?
Peri-bulbar Anesthesia In Depth
Anesthetic Management of the Dog with Mitral Valve Disease
A Quick Guide to Hypotension During Anesthesia
Mixing local anesthetics – yay or nay?
3 Easy Loco-regional Techniques You May Not Know
Handling "RUFF" Recoveries
February 2022
Sun Feb 20 at 9:00pm – 10:00pm
Anesthesia Management for Canine Dental Patients.
March 2022
Sun Mar 20 at 9:00pm – 10:00pm
Anesthetic Management of Brachycephalic Breeds.
Thu Mar 31 at 9:00pm – 10:00pm
Injectable-Based Anesthetic Protocols: Anesthesia with Less or No Inhalational Agents!
8. NAVAS/VIN Rounds (archived):
Gas Man® is a unique computer tool for teaching, simulating, and experimenting with anesthesia uptake and distribution. It combines an award-winning tutorial book with powerful, easy-to-use software.