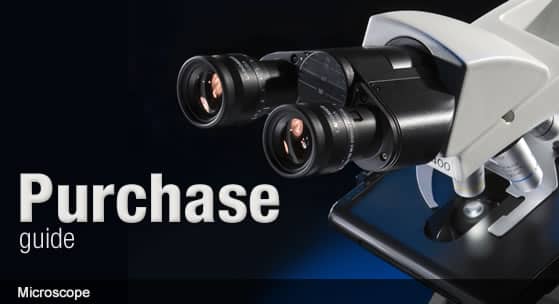 Read on for our practical tips for purchasing the right microscope for your practice.
Identifying your needs
Identifying your needs will help you choose the right microscope for your practice
Do you prefer to work with quality objectives?
Do those who use the microscope wear glasses?
Are the ergonomics of the microscope head important to you?
Would you prefer a light that doesn't heat up?
Customer service
Verifying the warranty and services offered before your purchase will help avoid surprises later.
Where is the microscope manufactured?
Is the warranty offered by the manufacturer or the distributor?
What is the length of the warranty?
What is the cost of maintenance?
What service is available in case of breakage?
Product Research
Use the table below to compare the characteristics offered by the microscopes offered by Dispomed.
Model
CxL Microscope
Lx400 Microscope
Lx500 Microscope
Optical System
Semi-plan achromatic
Plan achromatic
Phase
Eyepiece*
Diopter adjustment
Diopter adjustment
Diopter adjustment
Ergonomics of the microscope head
45° inclined
Inter pupillary distance 54-74 mm
Wide field focusable paired eyepiece 10x/18mm
Siedentopf, 30° inclined
Inter pupillary distance 48 – 75mm
Focusable widefield eyepiece 10x/20mm
Siedentopf, 30° inclined
Ergonomic Binocular 0° – 25° inclinable, 360°
Inter pupillary distance 47 – 75mm
Focusable wide field eyepiece 10x/22mm
Illumination**
Halogen
LED
Halogen 20W
Halogen 30W
LED
Halogen 30W
Angle of objectives
Regular
Reverse angle
Reverse angle
Origin
USA
USA
USA
Warranty
5 years
From the manufacturer
5 years
From the manufacturer
5 years
From the manufacturer
Cost of maintenance
$
$
$
* Microscope Eyepiece Adjustment
The diopter adjustment permits those with vision problems to adjust the eyepiece to allow for clear and precise viewing of any slide.
**Microscope Illumination
Contrary to halogen lights, the LED is a cold light. Using halogen lights can cause the oil to heat and migrate to the objectives, thus damaging them. If you analyze living specimens, the use of LED light is recommended rather than halogen which can damage your specimen.
Another advantage of the LED light is its durability. A LED light ensures up to 100,000 hours of illumination compared to only 2,000 hours for a halogen lamp.