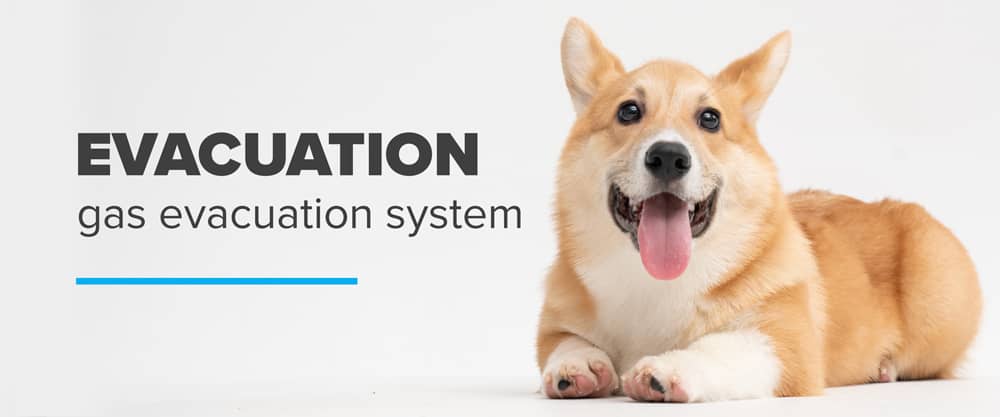 In the veterinary world, many kinds of evacuation systems are available in the market. You can find a wide variety, from low-cost to expensive. As some evacuation systems are safer than others, it is very important to take into consideration animal health, your team's, and your clinic's needs.
Dispomed can certainly help you choose the best and safest evacuation system for your patients, your clients, and your staff. As the standards in terms of evacuation systems are different from one province to another, it is important to be aware of them before investing money and time in a new system.
Here are several evacuation systems
available at Dispomed*
Option 1:
Moduflex Gas Evacuation Ventilator Assembly
The gas evacuation ventilator is a semi-active system that allows for the halogenated gases/nitrous oxide, used during anesthesia, to be evacuated to avoid air pollution in the operating rooms. Together with the scavenger interfaces, the gas evacuation ventilator is joined to a piping system, connecting every room where an anesthesia machine is located. The ventilator evacuates continuously while the scavenger interface regulates the airflow level of each anesthesia machine for animal safety. For years now, this system has proven to be the most efficient and the best value for clinics and hospitals.
*We recommend using 2-inch, outside diameter PVC or XFR pipping. It can easily be installed on/in a wall or ceiling.
Option 2:
Moduflex Scavenger Interface with Integrated Ventilator
The interface with an integrated ventilator, a semi-active system, is designed to work with one anesthesia machine at a time. Just like the gas evacuation ventilator, it is also connected to a piping system to evacuate waste gas from anesthesia machines. The advantage of the interface with the integrated ventilator is the cost, more interesting for clinics with only 1 or 2 anesthesia machines.
See how easily it can be installed:
Option 3:
Charcoal Filters
This is probably the fastest way to have a secure evacuation system. However, based on the number of anesthesia machines and/or surgery performed daily, charcoal filters can become expensive and require high maintenance as they must be weighed daily to ensure that the manufacturer's recommended weight limit is not exceeded.
When working with both an absorber and the main circuit, we recommend having 2 charcoal filters per anesthesia machine to prevent switching the evacuation hose from one system to another.
They will be more expensive in the long run, but they can be used for short procedures, such as in an X-ray room. For you to have a better idea of the annual cost of using carbon filters, we propose a scenario to reflect a clinic's potential usage: 1 anesthesia machine, used on average 15 hours per week, will have an annual cost ranging between $975 and $1,200. (Number of devices X; Price of filter X; Number of filters used in a year = Average annual cost.)
Recommendation
+ The canalization for the gas evacuation systems is installed by contractors to ensure compliance with safety and building code regulations.
+ The verification, testing, and certification of the installation along with your anesthesia unit to ensure compliance by manufacturers.
+ Our team of qualified technicians can also evaluate your evacuation systems to determine if it does represent a safety issue for people in the clinic. 
*Dispomed is not associated with any accreditation program.