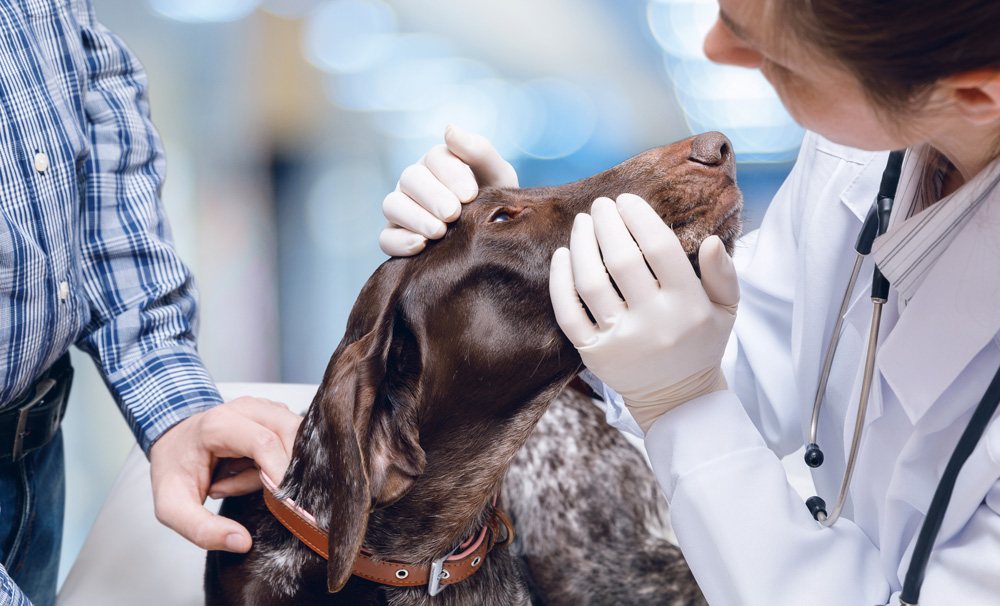 When presented with a patient that has a history of seasonally inflamed, itchy skin that responds poorly to maintenance medication, most veterinarians immediately begin to suspect allergies.
After ruling out parasites, skin infection, and other causes of pruritus and inflammation, the next step is often to recommend allergy testing.
The benefits and limitations of allergy testing
Allergy testing can be very effective in identifying the underlying cause of atopic dermatitis, a condition that is typically caused by the inhalation of pollen, mold spores, dust, and other allergens. Allergy testing is not, however, recommended for the diagnosis of food allergies. (Diagnosis of food allergies requires a food trial with a hypoallergenic diet.)
It is also important to note that allergy testing cannot be used to determine whether or not a patient has atopic dermatitis. Atopic dermatitis must first be diagnosed based on history, clinical signs, and the exclusion of other skin diseases. Allergy testing is only beneficial in seeking the underlying cause of already-diagnosed atopy, in preparation for immunotherapy and other treatments designed to decrease reactions to specific allergens.
Allergy testing in dogs typically takes one of two forms: intradermal skin testing, or blood (serum) testing. Each method has its own unique advantages and disadvantages, from both a medical standpoint and a client standpoint.
Intradermal allergy testing: How it's done
Intradermal allergy testing involves injecting small quantities of allergens into the patient's skin. This procedure is typically performed under sedation or general anesthesia, following a strict monitoring protocol. Approximately 40-60 injections are given in a single area of the body (typically the lateral thorax/abdomen) with a small sample of each allergen injected just under the skin.
A "positive" response to an allergen appears as a visible swelling, which looks like a hive. This swelling forms at the injection site and is typically observed within 20 minutes of injection. If such a swelling does not occur, a patient is assumed to not be allergic to that specific allergen.
By examining the visible skin reactions at each injection site, a dermatologist can determine which allergens are triggering the patient's atopic dermatitis.
Pros and cons
Intradermal allergy testing is considered "the gold standard" for the diagnosis of atopic dermatitis. When other allergy tests are evaluated, they are often compared to intradermal testing.
There are numerous cautions and restrictions for patients receiving intradermal allergy testing. Females should not be tested if pregnant or in heat, due to hormonal impacts on testing. Pets should be tested at the end of their allergy season (typically in the fall). No baths should be given in the five days before testing, and pets must be fasted the morning of the procedure (to allow for safe sedation).
Additionally, intradermal allergy testing cannot be performed if the patient has received the following medications:
Long-acting injectable steroids within the previous 90 days
Oral steroids within the previous 30 days
Topical steroids (including ear or eye medication) within the previous 14 days
Antihistamines within the previous 7 days
Essential fatty acids within the previous 7 days
This may prove challenging for some patients, who revert to extreme pruritus when medications are discontinued.
Other limitations to intradermal allergy testing include the need for sedation or anesthesia. This may be contraindicated in patients with certain underlying medical conditions, or a concern for some pet owners who are reluctant to pursue sedation/anesthesia for their pet.
Additionally, all hair must be clipped from the test site. With the proper veterinary table and equipment, this becomes no more than a mild inconvenience for most patients, but it may present a significant disadvantage to a show dog or a dog that is otherwise judged on the basis of its appearance.
Finally, intradermal allergy testing requires an experienced dermatologist to administer the test and interpret the results. Interpreting the skin reactions present at each site can be subjective, requiring significant experience to distinguish normal reactions from allergic reactions.
As such, the need for a dermatologist can present a significant obstacle for clients in rural areas who do not have access to mobile veterinary care and must travel significant distances.
Blood allergy testing: How it's done
Blood testing involves taking a blood sample from a patient and submitting the sample to a laboratory. The laboratory then tests the blood, looking for allergen-specific antibodies (IgE) against a number of allergens that are expected to contribute to atopic dermatitis.
There are a number of laboratories offering blood allergy testing, each of which uses different techniques to perform the tests. These techniques may vary in accuracy and clinical relevance. It is up to each practitioner to research laboratories and make an informed decision regarding which laboratory to use for blood allergy testing.
Pros and cons
Blood allergy testing is convenient. It can easily be performed in general practice and does not require a specialist to administer the test or interpret the results. Patients do not have to be sedated or shaved; all that is needed is a single blood sample, which can easily be collected during a routine wellness visit.
However, there are limitations to blood allergy testing. These tests are often associated with false positives, or positive results that cannot be confirmed through intradermal skin testing. Positive serum allergy test results have also been observed in dogs with no evidence of atopic dermatitis, and in some cases levels of allergen-specific IgE do not appear to correlate with the severity of clinical disease.
These findings can call into question the validity of serum allergy testing. When conflicts arise between the results of intradermal and blood allergy testing, intradermal testing is typically considered to be more accurate.
Reports do suggest, however, that patients treated on the basis of blood allergy testing often report clinical improvement, despite the theoretical flaws in this test. Therefore, blood allergy testing may still be a good option for patients who are not candidates for intradermal testing.
A primary advantage of blood allergy testing is that many blood allergy tests do not require pets to go off of their medication prior to testing. This can increase the likelihood of owners pursuing allergy testing, as many clients are hesitant to take their pets off medications for the extended withdrawal times required to perform intradermal allergy testing.
Which allergy test is best for dogs?
Ultimately, there is no one "best" test for all dogs.
Intradermal allergy testing is typically regarded as the "gold standard" and most accurate test, but it has limitations. If a client is unwilling or unable to pursue intradermal testing, blood allergy testing may offer similar advantages without the need for medication withdrawal, a lengthy drive to a dermatologist, sedation, or the shaving of the dog's hair.
Although the results obtained from blood allergy testing may differ from those that would be obtained through intradermal testing, many pets still experience clinical improvement when receiving immunotherapy based upon blood allergy testing results.
Some dogs gain the most benefit from receiving both skin and blood testing, allowing both results to be analyzed. Immunotherapy decisions are then made by incorporating findings from both tests. Dermatologists may recommend this approach for certain patients, although cost may be a significant factor in determining which pet owners are willing to go ahead with this testing.
Sources and additional reading