Dr. Debbie Torraca present the Multi Radiance lasers
Why Use Lasers For Veterinary Treatement?
Multi Radiance Medical's Veterinary Laser Therapy devices provide accelerated pain relief and healing. This safe and powerful technology is applied with a cordless hand-held applicator providing targeted Super Pulsed Laser light that stimulates cell regeneration. Throughout the world, cold Laser Therapy is used to relieve acute/chronic pain, back pain, carpal tunnel, arthritis pain, fibromyalgia, tennis elbow, muscle strain, bursitis, tendonitis, and other injuries in humans; now we're bridging the gap and offering safe and effective for all aspects of Veterinary care.
Multi Radiance Laser Therapy can be particularly helpful in reducing pain and enabling arthritic animals to be more active. It also is beneficial in managing wounds and dermatological abnormalities including hot spots, lick granulomas, otitis externa, pyoderma and healing of surgical incisions. If there is infection, blue light therapy can be used to reduce the bacterial load and minimize the need for anti-microbial therapy. Finally, Multi Radiance Laser Therapy can speed healing by decreasing pain and inflammation and promote blood flow to the affected areas.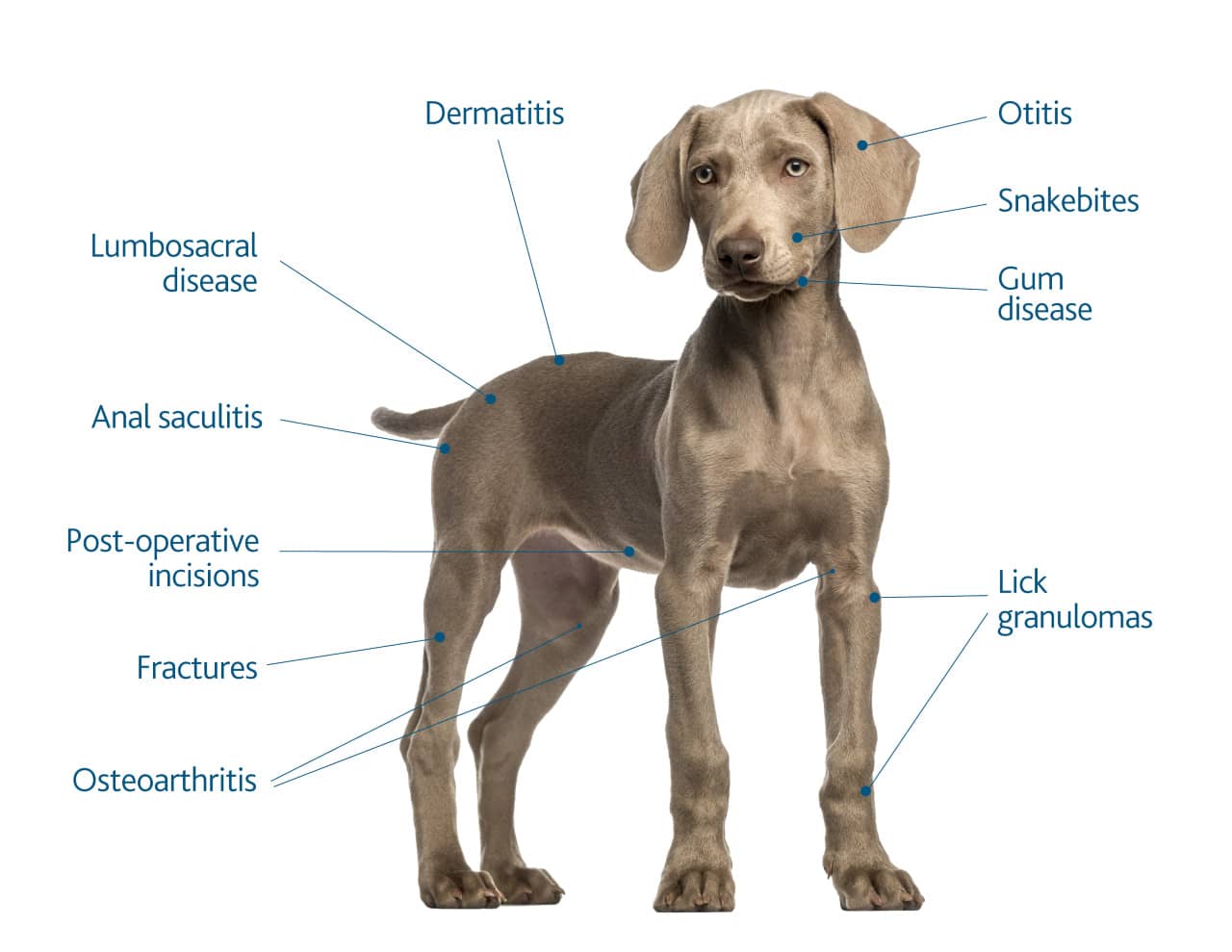 Laser Also Treats These Conditions
Pododermatitis
Bursitis and tendonitis
Gingivitis, stomatitis and tooth extractions
Rodent ulcers and feline acne
Cystitis
Feline asthma
Rhinitis, sinusitis
Trauma
Hip dysplasia
Pyotraumatic dermatitis (hot spots)
Inflammatory bowel disease
Dermatomyositis
Tail fractures
Acupuncture
Some conditions will improve with one or two treatments, such as post-surgery and acute pain, while other conditions may require a series of visits over a few weeks, like lick granulomas and otitis.