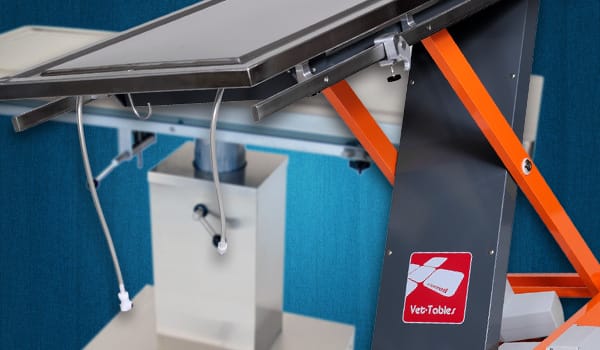 Is your surgery table unsteady? Can it no longer reach a convenient height and cannot be moved from room to room? Dispomed's veterinary table purchase guide can give you pointers to help you make an informed purchase of a new veterinary table for your practice.
1. IDENTIFY YOUR NEEDS
There are many models of veterinary tables available on the market today, which offers several different options. Before beginning your research, we suggest you ask yourself the following questions:
What is the average weight of the animals you treat?
Do you prefer manual or automatic adjustments?
Do you need to move the table between rooms?
What kind of surgery do you perform the most often?
What space is available for the table?
2. AFTER-SALES SERVICE
Once you have decided which table best suits your needs, you should verify the type of after-sales service that is offered. In order to ensure this, ask the following questions:
Where is the table manufactured?
Is the warranty offered by the distributor or the manufacturer?
What is the length of the warranty?
What is the cost of maintenance?
What type of service is offered in case of breakage or defect?
3. RESEARCH THE PERFECT VETERINARY TABLE
Now that your needs have been clarified, use the table below to compare the characteristics of the tables offered by Dispomed.
Model
Electric Elevator Table
Hydraulic Surgery Table
Exam Table
Wall-mount Exam
Table
Product #
285-0200-000
285-0300-000
285-0548-000
285-0600-000
Lift Capacity
300 lbs
300 lbs
N-A
N-A
Lift Method
Automatic (50 lift battery capacity)
Manual
N-A
N-A
Height
11" to 40"
(CSST approved)
29" to 41"
N-A
N-A
Mobile Options
Yes
No
Yes
No
Options for
table-top
None
V-shaped top
Inclinable, Heated
None
None
Table-top Dimensions
22" x 60"
(55.8 cm x 152.4 cm)

* Other dimensions available on request.
22" x 60"
(55.8 cm x 152.4 cm)
or
22" x 48"
(55.8 cm x 121.92 cm)
22" x 48"
(55.8 cm x 121.92 cm)

* Other dimensions available on request.
21" x 45"
(53.3 cm x 114.3 cm)
Warranty
5 years
1 year
5 years
1 year
Country of Manufacture
Made in Canada by Dispomed
United States
Made in Canada by Dispomed
United States