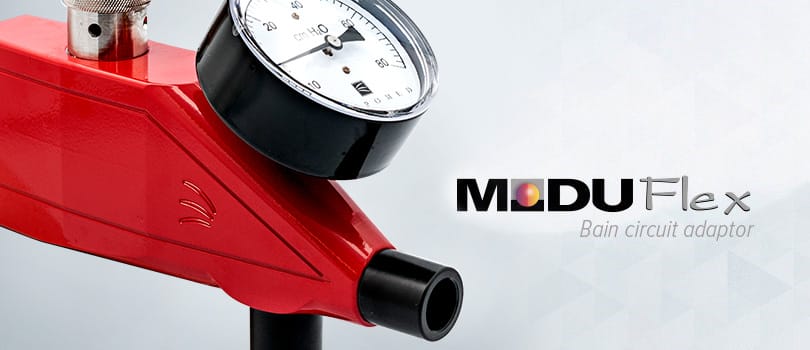 The Moduflex™ Bain circuit adapter is definitely the number 1 accessory for anesthesia machines. Easy and efficient, it can be installed on all brands of anesthesia machines. Used in a number of veterinary hospitals and clinics, the Bain circuit adapter can help increase the quality of your practice.
Reduces breathing resistance
Includes a momentary pop-off valve
Includes a pressure gauge
5-year warranty
Easy to install
Ideal for Small Animals
The Moduflex™ Bain circuit adapter is mostly used with animals of 5 kg or less because of its lower breathing resistance. There are no check valves or Carbon Dioxide Absorbent granules in the circuit to increase resistance. This makes it the ideal accessory for small patients and those with breathing difficulties.
Immediate Ventilation
A Moduflex™ Bain circuit adapter on a veterinary anesthesia machine allows you to have more control during interventions. Since the breathing bag is always inflated, the patient can be ventilated immediately, contrary to using other open circuits (e.g., Ayres T-piece, Jackson-Rees) where ventilation can only be done once the bag reaches a certain level of inflation. The Moduflex Bain circuit adapter contains a momentary pop-off valve which allows you to close the valve quickly by simply pushing down on the valve and holding it. You can then ventilate immediately. This feature of the Moduflex™ Bain circuit adapter solves the problem of forgetting to reopen the valve. As with Jackson Rees and Ayres T-piece open circuits, the Moduflex™ Bain adapter includes a pressure gauge which allows you to monitor the patient's breathing pressure.
Efficient Quick Fix
The Moduflex™ Bain circuit adapter can replace the CO2 absorber in case of breakage; thus, eliminating downtime of the anesthesia machine. When using the Moduflex™ Bain circuit adapter, the patient's temperature should be monitored closely as it can decrease more rapidly.
Need more information?
Would you like more information about our Moduflex™ Bain circuit adapter? Contact Dispomed.