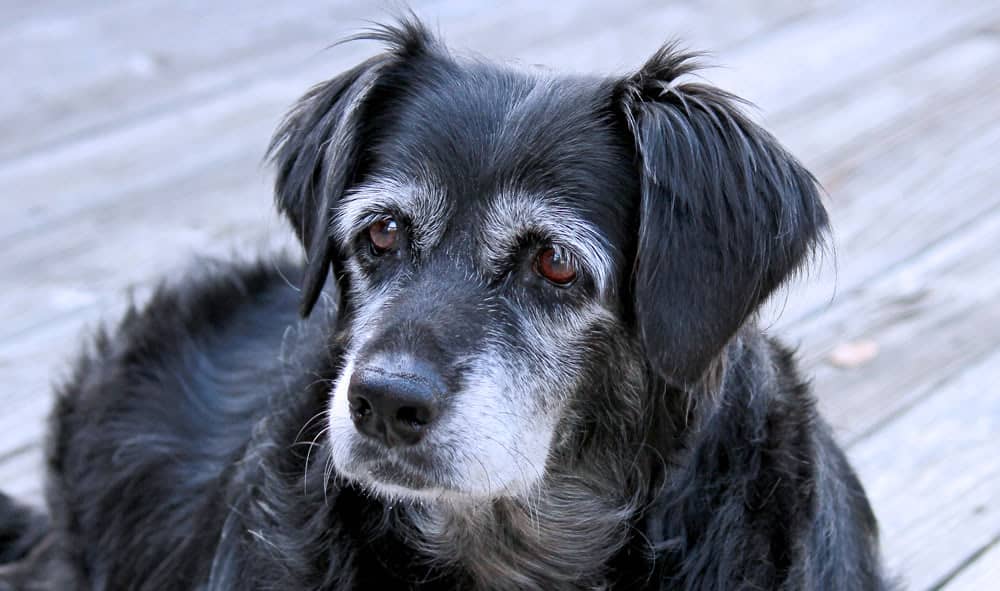 Dental care is a fact of life for older dogs. Studies have demonstrated that the prevalence of dental disease in dogs increases as they grow older and their body weight decreases, meaning that older, small-breed dogs are at the highest risk of dental disease.
If left untreated, dental disease will only worsen. Therefore, anesthetizing older dogs for dental care is an important aspect of preventative medicine and a common occurrence in veterinary
What are the benefits of teeth cleaning in geriatric patients?
Dental cleaning offers significant benefits for all patients, but some of these benefits are more pronounced in senior pets.
Oral tumors are seen more commonly in older dogs than in younger patients. In many cases, these tumors cannot be detected on an awake patient, because the dog will not permit a thorough oral exam.
The most common malignant oral tumors in dogs are melanomas, fibrosarcomas, and squamous cell carcinomas. Performing an anesthetized oral examination as part of comprehensive dentistry is often the best way to detect these tumors; the mass can then be biopsied during the same anesthetic procedure.
Additionally, the plaque and tartar that are present on the teeth can harbor harmful bacteria. If left untreated, these bacteria can spread to the heart valves, kidneys, and liver. This bacterial spread can lead to significant systemic infection.
Finally, dental disease is painful. Infection and inflammation associated with periodontal disease causes discomfort, and this discomfort can become more pronounced if there is bone involvement. Dental care can significantly improve a pet's comfort and overall quality of life.
What preanesthetic evaluations are recommended in senior dogs?
Recommended preanesthetic diagnostics in pets can vary, based on the dog's individual health history and concurrent diseases. In many cases, the American Society of Anesthesiologists (ASA) scale can be beneficial in determining which preanesthetic tests to perform.
A geriatric dog that is classified as ASA I or II probably only needs bloodwork (a complete blood cell count, serum biochemistry, and electrolytes), a urinalysis, and possibly an electrocardiogram prior to anesthesia.
A dog classified as ASA III, IV, or V may require additional testing based upon the animal's disease state.
Preanesthetic testing should be done one to two days prior to the scheduled procedure date, if possible. This provides an opportunity for any detected abnormalities to be addressed before the procedure, instead of having to cancel or postpone the dental cleaning.
In a dog with evidence of renal disease, for example, intravenous fluids can be administered to ensure adequate hydration prior to anesthesia.
Which anesthetic protocols will minimize anesthesia risks in older dogs?
The safest anesthetic drugs will vary by patient, depending on concurrent medical conditions. However, there are several standard recommendations that can be beneficial in the anesthesia of older dogs.
Choosing the right types of premedications
Premedications reduce the necessary doses of induction agents and inhalant anesthetic. They play a valuable role in the anesthesia of all pets, especially geriatric pets.
Appropriate premedications in geriatric dogs often include opioids, such as morphine and hydromorphone, because they provide effective sedation and analgesia. Opioids have minimal cardiovascular effects, although they can cause respiratory depression and should be used with caution (at lower doses) in patients with hepatic disease.
Benzodiazepines, such as midazolam, are also recommended for use in geriatric pets. These drugs have minimal cardiovascular effects and do not cause respiratory depression, like that which can be seen with opioids. Like opioids, however, benzodiazepines should be used with caution in patients with hepatic disease.
Acepromazine is not typically recommended as a premedication in geriatric pets. As a powerful vasodilator, ace is prone to cause hypotension and hypothermia in anesthetized pets. If acepromazine must be used in a geriatric pet, doses should be low and intravenous fluids must be given during anesthesia to maintain blood pressure.
Alpha-2 agonists, such as medetomidine, should also be avoided in geriatric pets. These drugs have significant cardiovascular effects, often resulting in bradycardia and atrioventricular blocks. Even low doses of these medications should be avoided in geriatric pets.
Additionally, the anticholinergic premedications, such as atropine and glycopyrrolate, that are included in the anesthetic protocols of some veterinary practices may also pose a potential risk in geriatric dogs. These medications often trigger tachycardia, which may lead to a decrease in cardiac output and/or arrhythmias. Therefore, these medications should be avoided in geriatric pets unless clinically indicated or necessary.
What are the safest induction agents?
There are several appropriate induction agents for geriatric pets. Etomidate and propofol are generally regarded as the safest options.
Etomidate has the advantage of causing minimal cardiovascular depression, while propofol is often associated with a decrease in heart rate. Both drugs cause respiratory depression, although this is typically more pronounced with propofol and may lead to apnea and cyanosis.
Ketamine/valium is also an appropriate combination for healthy geriatric dogs, if etomidate and propofol are unavailable. Ketamine should be avoided, however, in dogs with cardiac or hepatic disease.
What is the safest inhalant option?
All inhalant anesthetics cause dose-dependent cardiac depression, respiratory depression, hypothermia, and hypotension. Using properly maintained anesthesia machines and  balanced anesthetic protocols is necessary to ensure that pets are given the lowest possible levels of inhalant anesthetics.
While sevoflurane is regarded as the safest inhalant option for geriatric pets, isoflurane is also a safe and appropriate choice.
Anesthesia monitoring in geriatric dogs
Monitoring is important in all anesthetized patients, but it is especially important in geriatric pets.
Minimal monitoring for a geriatric dog includes the following:
Electrocardiogram
Pulse oximetry
End-tidal carbon dioxide
Non-invasive blood pressure
Temperature
Geriatric pets may experience greater challenges in regulating body temperature under anesthesia. Body temperatures below 98°F can alter mentation, decrease immune function, delay wound healing, and prolong recovery.
Maintaining body temperature in an older dog is likely to require active warming, as well as other measures such as keeping the patient dry, running fluid lines through a fluid warmer, and the use of blankets.
All vital signs should be monitored closely and recorded to allow the detection of trends. This allows the veterinary team to anticipate emergencies and make adjustments early.
Intravenous fluids
All geriatric patients should have an intravenous catheter placed for anesthesia. Using intravenous fluids to maintain perfusion and blood pressure is especially valuable in senior dogs.
Maintenance fluid rates under anesthesia should be given at a rate of 5 to 10 ml/kg/hr. Some pets may benefit from a bolus of 5 to 10 ml/kg before surgery, before transitioning to maintenance fluids. Caution should be used in patients with cardiac disease, however, to prevent complications associated with fluid overload.
Are perioperative antibiotics necessary?
Perioperative antibiotics in routine dentistry are controversial, but may be recommended for dogs with concurrent heart disease or renal disease.
In these cases, a broad-spectrum antibiotic may be beneficial to prevent bacterial seeding of the cardiac valves and kidneys.
How can I minimize the risks associated with dental extractions?
When calculating dosages for local anesthetic blocks, do so carefully. This is especially important in small-breed dogs. Bupivacaine may be mixed with epinephrine (except in patients with hypertension) to minimize local bleeding, or lidocaine may be used as a local block.
Radiographs should always be taken before and after dental extractions. Radiographs taken prior to extractions can alert the veterinarian to diseased bone, abnormal/damaged roots, and other factors that may complicate extractions. Post-extraction radiographs are crucial to confirm that no root tips were left behind in the extraction sites.
The most significant risk associated with dental extractions, however, is that extractions often significantly prolong the amount of time that the dog is anesthetized. Lengthy anesthesia can present greater challenges in maintaining body temperature, perfusion, and blood pressure.
If these parameters cannot be controlled over the duration of a lengthy anesthetic procedure, extractions should be staged in order to allow for multiple, shorter procedures.
Conclusions
Dental care, including anesthetized dental cleanings, is an essential part of senior dog care. Thorough pre-anesthetic workups, stabilization of concurrent medical issues prior to anesthesia, and the use of safer anesthetic protocols can minimize these risks in geriatric pets.
Even so, patients must be closely monitored under anesthesia and there may be situations in which dental care needs to be staged over multiple anesthetic episodes to minimize risks.
Sources and additional reading