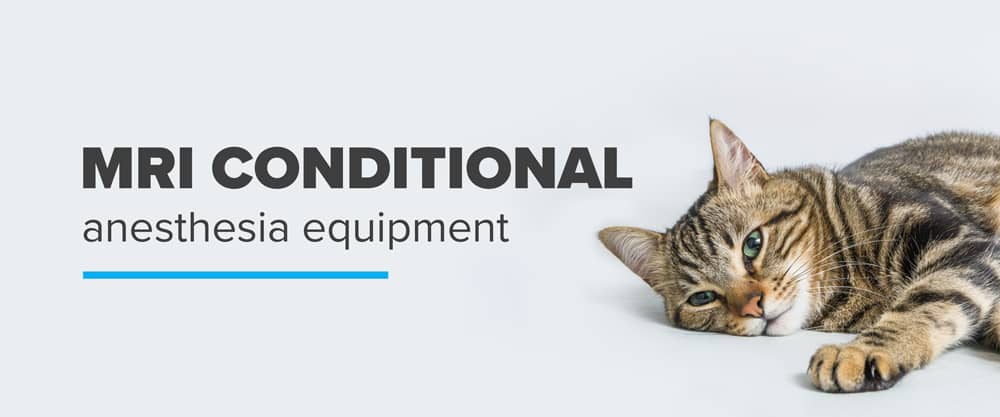 After 2 years of work, we are proud to officially announce that our MRI veterinary anesthesia machines are now accredited with the MRI Conditional Certification from the Med Institute.
Dispomed offers high-quality MRI veterinary anesthesia machines. These units have been tested and have been approved MRI conditional since they are made from non-ferrous materials. When adapting our equipment to the MRI room, we have kept our user-friendly design, providing you with the freedom to focus on your patient. With this range of MRI products, we are sure that you will have the best installation for your veterinary imaging room.
To better understand the MRI conditional accreditation and the difference with the MRI terminologies
MRI compatible is an old term no longer used in MRI labelling. MRI labelling, as defined by ASTM F2503-20, includes the terms MR Safe, MR Conditional, and MR Unsafe.
MR Safe: an item with no known hazards resulting from exposure to any MR environment. MR Safe items are composed of materials that are electrically non-conductive, non-metallic, and non-magnetic.
MR Conditional: an item that has been proven to be safe in MR Environment under defined conditions, including static magnetic field, time-gradient magnetic fields, and radiofrequency fields.
MR Unsafe: an item that poses unacceptable risks to the patient, medical staff, or others in the MR environment.
We are very proud to be THE benchmark for anesthesia in your MRI room.