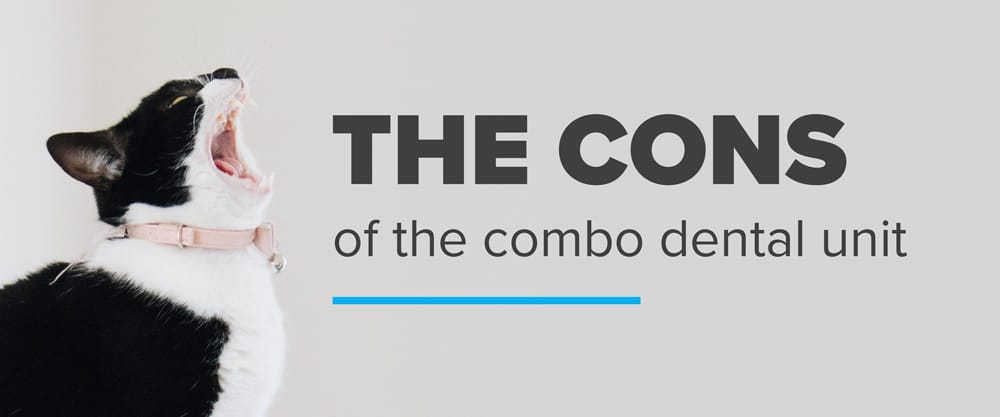 Do you find that you don't enjoy doing dental procedures as much as you used to and find yourself refusing requests for dental treatments?
Have you noticed damage to your patient's teeth and gums during scaling?
Do you find that scaling takes too long?
The Combo polisher is not a high-speed handpiece; therefore, it tends to overheat during extractions since the motor has to work at full capacity for an extended period of time.  You then find yourself paying to have the unit repaired, knowing that the problem will reoccur.
A veterinary dental unit with a high-speed handpiece provides the necessary power to complete your procedures without taxing the motor.
With a Highdent™ veterinary dental unit, the water comes directly from the tip of the handpiece, allowing it to remain cool during use.
Combo units are generally equipped with an ultrasonic handpiece as the type of scaler.
Highdent™ dental delivery units are equipped with a Piezo which saves you time.
The Combo unit's handpieces are not autoclavable and this can cause cross-contamination between patients.
This problem can be avoided by purchasing a Highdent™ dental delivery unit equipped with autoclavable handpieces.
Switching to a Highdent™ dental delivery unit will not only allow you to enjoy dentistry but will save you both time and money.
Is your dental unit due
for preventive maintenance?
Start using your unit with good maintenance habits. Let's give yourself relief and avoid stress by subscribing to our automated maintenance reminders. We will be guiding you in using the unit to its full potential and optimizing its operating service time.