Our range of Vet-Tables is now more complete than ever with the same quality of design as other equipment manufactured by Dispomed. Whether you need to execute a surgical or dental exam on a transportation table, we have the perfect one for you! Start by choosing the base, then select your top and ultimately, integrate any other options you want. With 3 easy steps, you will have customized your Vet-Table!
Vet-tables Electric Elevator Veterinary Table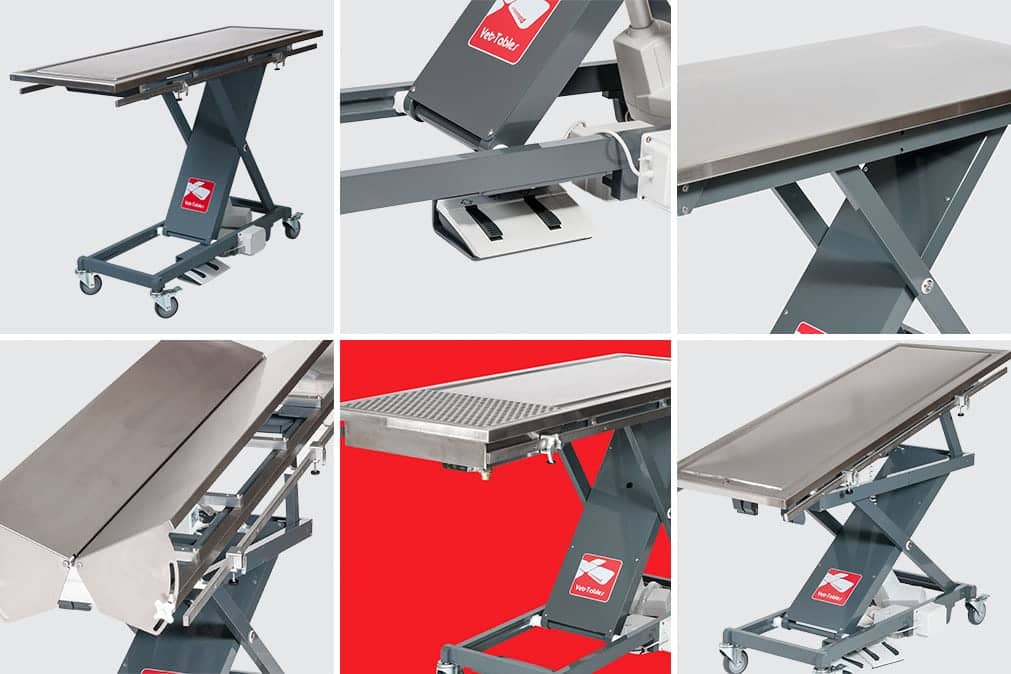 The exceptional lifting capacity of the Vet-tables scissor table protects your patients and staff from injuries caused by the handling of heavy animals.
Lift capacity: 300 lbs (136 kg)
Lift method: Automatic (50-lift battery capacity)
Height: 11″ to 40″ (27.9 cm to 101.6 cm)
Mobile options: Yes
Table-top type: Exam, surgery, V-shaped, dental and heated
Table-top tilt: Yes – Automatic
Table-top rotation: No
Table-top dimensions

: 22″ x 60″ (55.8 cm x 152.4 cm) and 22″ x 48″ (55.8 cm x 121.92 cm)

Warranty: 5 years
Country of manufacture: Canada
Vet-Tables scissor table
Vet-Tables Electric Surgery Table
The Vet-tables electric surgery table has a large possibility of configurations. It is manufactured in Canada and designed exclusively for veterinary use. This table offers stability with a minimum footprint.
Lift capacity: 300 lbs (136 kg)
Lift method: Automatic
Height: 32.25″ to 43.5″ (81.9 cm x 110.5 cm)
Mobile options: No
Table-top type: Exam, surgery, V-shaped, dental and heated
Table-top tilt: Yes – Manual
Table-top rotation: Yes – Manual
Table-top dimensions

: 22″ x 60″ (55.8 cm x 152.4 cm) and 22″ x 48″ (55.8 cm x 121.92 cm)

Warranty: 5 years
Country of manufacture: Canada
Vet-Tables Electric Surgery Table
Vet-Tables Exam Table
Height: 35.5″ (90.17 cm)
Mobile options: Yes
Table-top type: Exam
Table-top dimensions

: 22″ x 60″ (55.8 cm x 152.4 cm) and 22″ x 48″ (55.8 cm x 121.92 cm)

Warranty: 5 year
Country of manufacture: Canada
Vet-Tables Exam Table
Vet-Tables Mobile Exam and Surgery Table
Height: 35.5″(90.17 cm) – not including the anesthesia machine head
Mobile options: Yes
Table-top type: Surgery
Table-top dimensions

: 22″ x 60″ (55.8 cm x 152.4 cm) and 22″ x 48″ (55.8 cm x 121.92 cm)

Warranty: 5 years
Country of manufacture: Canada
Vet-Tables Mobile Exam and Surgery Table
Download our Vet-Tables brochure